Submitted by
Khushboo
on Tue, 05/19/2015 - 22:31
Posted in
Skin Icing - Beauty Fix for Glowing Skin
Forty-year-old model Kate Moss recently revealed that she uses 'skin icing' as an anti-aging tactic. It involves wrapping ice cubes in a cloth and rubbing them over the face. (Source: Times of India -Bizarre Beauty Fixes of Hollywood Hotties)
Even some of our beautiful bollywood actresses reach out for Skin Icing as a quick beauty fix. Jacqueline Fernandez grabs an Ice Tray to quell under eye puffiness and for achieving instant glow. She wraps the ice cube in a thin muslin cloth and gently apply the ice all over her face. (Vogue India)
I always wondered why beauticians use ice cool water during facial, apart from it feels really good during summers, the answer lies in the many benefits this cool technique offers. Cold therapy has been used in the skin care treatments for several years. Korean women who are known for their flawless skin incorporate Skin Icing in their daily beauty regime and religiously follow it everyday.
So next time if you are going for a party and want to look your best give yourself a mini ice facial. You will be left with a radiant and fresh glow,may be you won't even need to apply makeup.
BEWARE, be ready to bag in some Compliments for sure :-).
BENEFITS OF SKIN ICING
1. TONES up the face and makes the skin look SMOOTHER.
2. Soothes INFLAMMATION of the skin. Applying Ice minimizes discomfort and irritation after cosmetic procedures especially after chemical peels, waxing ,threading. I always make sure I apply ice once I get my eyebrows threaded else I get small bumps on my skin.
3. It relieves UNDER EYE PUFFINESS. Just make sure to be gentle and keep the ice moving as its a very delicate area.
4. It helps in deeper penetration of products. So when applying a serum or even moisturizer I always apply ice before application. It balances the PH of the skin and therefore promotes product penetration.
5. It is an ANTI AGING preventative technique. When applied regularly it prevents early age wrinkle formation.
6. Its helps in calming down the Acne flareups. It can shrink down the pimple overnite. Just apply it on the acne at night and in the morning it shrinks down. Skin icing also minimizes the appearance of enlarged pores. So if you are the one who has oily skin and enlarged pores you must consider this as a rescue.
Skin icing can be done in the morning or evening or at both times. I usually do it at the night as I apply my serums mostly at that time.
Follow these instructions:
1. First, cleanse your face thoroughly.
2. Wrap one or two ice cubes in soft cloth or use a thin muslin cloth. Some people prefer to use ice directly. Both ways are fine and have the same effect.
3. Let the ice sit for a minute. Once the ice starts melting, start applying it to the face.
4. Rub the ice gently using circular movements. Keep the ice moving.Take special care for the area underneath your eyes as its a fragile area. 10-15 minutes is enough, do not over do.Make sure to apply ice on the neck as well as decollete.
5. Finish with toner and moisturizer.
SKIN ICE INFUSIONS
I like adding the following ingredients in the
plain ice to kick up the benefits of skin icing.
1. ROSE WATER : It offers a handful of goodness for skin. It is known for its anti inflammatory and moisturizing properties. The divine aroma of rose water also elevates the mood. All you have to do is pour some rose water in ice trays and let it freeze.
Massage the rose water ice on face and neck gently. Apart from using rose water in ice form I also keep a bottle of rose water and spray it to hydrate my skin during summer time.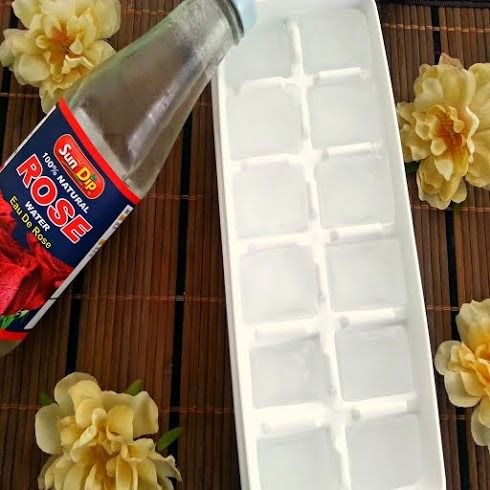 2. GREEN TEA: We all are aware about the health benefits of green tea. But it also offers many skin benefits. It is known to fight against free radical damage as well as for its anti inflammatory properties. I was a great fan of applying used tea bags to reduce puffiness under eye. But now I use iced tea packs more often. Consistent application of green tea helps inpreventing wrinkles and fade blemishes and acne marks. Brew a cup of strong green tea,let it cool and then pour it in an ice cube tray and let it freeze. I also apply this ice after a hot day out in Sun. It soothes the sunburns immediately.
3. ALOE VERA : This one I can use all year round. It is particularly great for acneic skin. It helps in healing the acne breakouts and it is also a known remedy for treating pigmentation. Just pour ALOE VERA gel ( make sure its 100% pure ) and let it freeze. Raw honey can also be added with ALOE VERA gel to enhance the beauty benefits of this ice.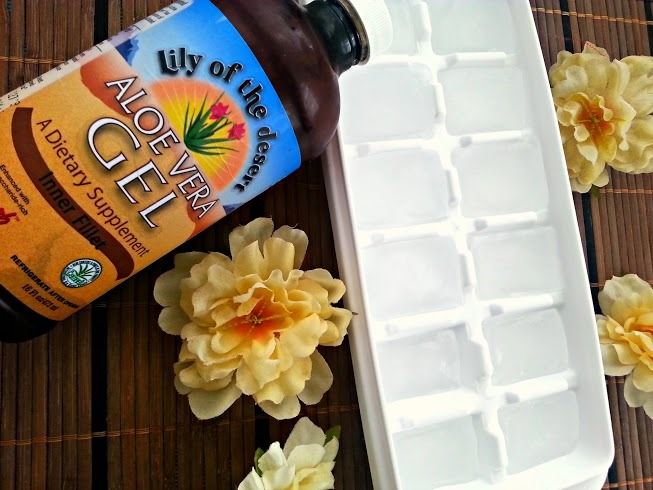 4.CUCUMBER : It is a magic wand for improving the skin conditions and makes your skin happy with its soothing and softening properties.It helps in fading the dark circles and under eye puffiness. It also improves the complexion of the skin by reducing the appearance of dark spots and pigmentation. Just cut the cucumber in large chunks and place them in a blender or mixer. Once you have a smooth mixture pour it in the tray and let it freeze. If the consistency of mixture is too thick, a little water can be added.
Note:
* Avoid using on areas where you have broken capillaries or if you have this problem .
* Do not use it for too long. 10 to 15 minutes is enough as I mentioned earlier.
* Stop the treatment if you feel uncomfortable.
* For better results, infuse ice with cucumber, rose water, green tea etc.
* After using infused ice do not wash the face immediately, let the skin absorb the beneficial properties of these magical ingredients for 15 to 20 minutes and then wash the face. Do apply moisturizer and toner afterwards.
-------------------------------------------------------------------------------------------------------------------------------------
About the author: When I was in India, I was a Financial Service Consultant with the MBA degree, screwed up in a 9-­5 full time monotonus job. I got married and moved to USA in 2009. Most of us dream of that.But truly speaking the day I landed at LAX Airport I was not excited. I was only missing my family,relatives, friends. The flow of emotions were so intense that initially I used to feel, when will I go back..back to my country my people. I used to nag..nag a lot. Days passed and I realised thatthere is no way out and I have to stay here at least till my husband's project will continue.That wasthe peak time for me to decide whether to waste this time in nagging or should I make itworthwhile. When you are alone you get so much time to dip your hands in stuff you neverthought of, to understand that your life has a purpose. I got fascinated towards DIYs, healthyliving, crafting, writting and beauty which inspired me to pursue the esthetics course in and Ibecame a licensed Esthetician. I never thought of doing all this when I used to sit in a small bank cubicle. Few of my articles got published in the Indian magazine Woman's Era which boosted myconfindence and I stared blogging. Now every morning I wake up with a purpose,to learn, toshare. I want to learn and grow with each passing day and thats the aim of my life. Simple. Right!
About the column: Through this column I would like to share whatever I learn in the process of making my life better ( DIY beauty products, healthy tips, crafting, and much more). So stay tuned!