Submitted by
Anshoo
on Tue, 06/03/2014 - 09:34
Posted in
Welcome to the chronicles of Alice, the Turkish Traveller! Come fly with me and explore Izmir.
Visa checked, Passport checked, Tickets checked and the bag is packed… The alarm rings at 4:00 am and Alice wakes up with excitement to get ready and heads to London Heathrow Airport. Alice doesn't travel without her lonely planet… this helps her read up on the flight and plan the days.
She boards the Turkish Airline flight which stops over at Istanbul for a little over an hour. She wanders around fascinated with the cafes and shops and stops to have the Elma çay (Apple Tea). By the time she finishes savouring the çay… she hears the announcement to board the flight to Izmir.
Wooohoooo in an hour Izmir is here! Alice took the train from the Airport to the town called Selçuk. Sprawling beneath an ancient fortress on Ayasoluk Hill, Selçuk (pronounced as sell-chook) makes a good base for visiting all the points of interest in the Ephesus region and as far away as Pamukkale.
Alice checked into the Hotel Kalehan (good place to stay!) and walked around the market area exploring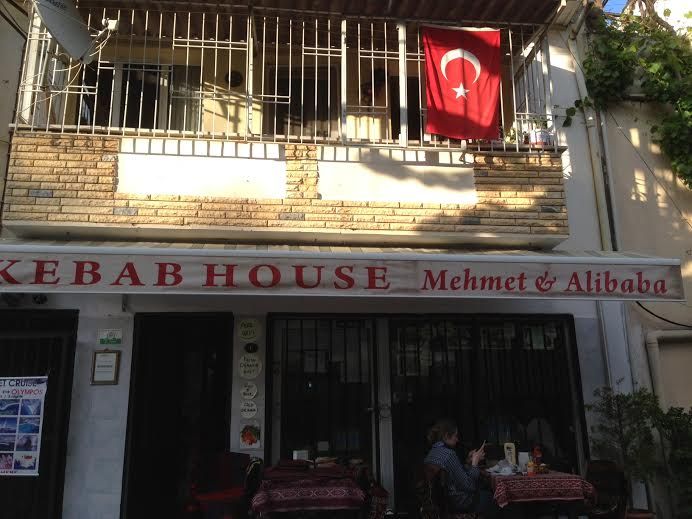 cafés and discovered Mehmet and Ali Baba Kebab House which serves mouth-watering dishes, Turkish Raki, coffee and Turkish tea. The flavours are endless; apple, orange, rosehip tea and more! Alice enjoyed the Gozleme (similar to pancake with different fillings) along with Ayran (similar to buttermilk). Met other travellers at the café and was great to listen to their travelling stories. What a fun day!
Alice headed to the hotel, explored options and opted to go to Pamukkale the next day through an organised tour.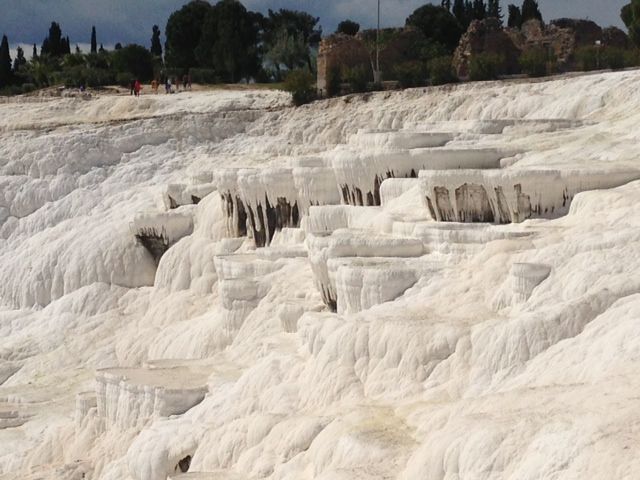 After a yummy breakfast of cheese, eggs, breads and Turkish Coffee. The tour company bus arrived to pick her up at the hotel at 08:30 am. Alice heads to Pamukkale which means "cotton castle" in Turkish. It is a natural site in Denizli Province. The city contains hot springs and travertines, terraces of carbonate minerals left by the flowing water. It is located in Turkey's inner Aegean region, in the River Menderes valley. It has been a spa since the Romans built the spa city of Hierapolis around a sacred warm-water spring and breath-taking sights. The Antique Pool is still there, littered with marble columns from the Roman Temple of Apollo. You can swim in it for a fee. It takes approx. 2.5 hours one way to the city and back.
Returned at 6:00 pm post which Alice explored the Selcuk town centre and ate delicious authentic dinner at Edjer restaurant run by a Turkish family. Back to hotel and retired for the day.
The next day took the dolmus to Şirince - a beautiful hill village. It's famous for its olive oil, fruit wines and its
charming, restful boutique hotels. A dozen small restaurants cater to day-trippers, hotel guests, and locals alike.
Sipping on fruit wine took the dolmus back to Selcuk and started the walk to Efes or Ephesus which is the best-preserved Roman city in the Mediterranean region, and one of Turkey's top sights. One can take the bus to Efes however Alice preferred the walk enjoying the local shops, speaking to local people and finding the way to this historic place. And in an hour and a half Alice was there buying her entry tickets and was spell bound with the historic sights… After this trek shared the dolmus to visit the House of Virgin Mary.
The last night was spent in Izmir where Alice loved walking the promenade, Konak square, admired the view from the top of the Asansör - an elevator enclosed in a lofty brick tower for amazing bay views and exploring the Kemeralti Market buying crochet table mats from the local women.
With this amazing local flavour of Izmir… Alice returned to London refreshed, rejuvenated however, still wanting more!
Keep exploring: My next column will be on Istanbul!
Signing off now – Alice a.k.a Anshoo
-----------------------------------------------------------------------------------------
Anshoo has been with Tata Consultancy Services (TCS) since 2008. Having earned a master's degree in Sociology from Mumbai University, Anshoo went on to receive her second master's degree in Human Resources from Leeds University Business School.In her capacity as HR Manager with TCS, Anshoo has developed learning initiatives focusing on running culture and communication workshops both internally and for TCS' clients. Her areas of expertise include integrating teams in culturally diverse set-ups, managing career aspirations and designing interventions for organisational development. Anshoo has actively contributed to the Future of Work consortium with London Business School.
About her column : "Life is short and the world is a large place, I want to experience everything I can. With this brief introduction, be part of my journey each month as I explore new countries and different cities in the world. Explore the places and get tips on what you could do… "