Submitted by
Anshoo
on Tue, 07/15/2014 - 08:13
Posted in
Welcome to the chronicles of Alice, the Turkish Traveller! Come fly with me and explore Istanbul.
Alice is all excited reading about Istanbul and decides to get there on a weekend. Within two weeks she has everything sorted to travel. Alice prefers taking morning flights to ensure she reaches in good time and gets her way through the city. There goes the alarm and with the excitement she rushes to Heathrow Airport.
She boards the Turkish Airline flight and Wooohoooo in about three and a half hours she is at Ataturk Airport, Istanbul. Alice booked her stay in a hotel called Apek Palace in the old part of the city called Sultanahmet.
Most of the hotels here have a shuttle service from the airport which is convenient and highly recommended.
Alice checked into the hotel and in the afternoon she walked around the market area exploring cafés. Walking along the Bosphorus Strait (half in Europe, half in Asia), Alice realises that this city offers travellers a rich mix of east and west. Only here does the call to prayer ring out at the crack of dawn while partygoers make their way home after a night of clubbing. And only here do ancient mosques, palaces, baths and markets sit happily alongside, ultra-modern shops, cafes and bars. While sipping on the Turkish Coffee and eating the Baklava
- Alice picked up a magazine which stated "Istanbul's diversity and the city's immense energy, earned it the title of European Capital of Culture in 2010 and made it one of the hottest destinations in the world".
Absorbing all of this Alice heads to the tourist information centre and plans her day.
Alice recommends:
Alice started the day with the Hippodrome, imagining the ancient chariots racing along its length, and admiring centuries old columns and statues. She then wandered through the gardens of the Blue Mosque before making her way inside to marvel at the sheer mass of Iznik tiles. These tiles are blue in colour and reason why it is called the Blue Mosque.
The Blue Mosque
Post that peaceful experience Alice refreshed herself with a steaming glass of cay in one of Sultanahmet's open air tea gardens before entering the great Hagia Sophia Museum, which contains some of the best preserved Byzantine mosaics around and is one of most significant architectural feats in history.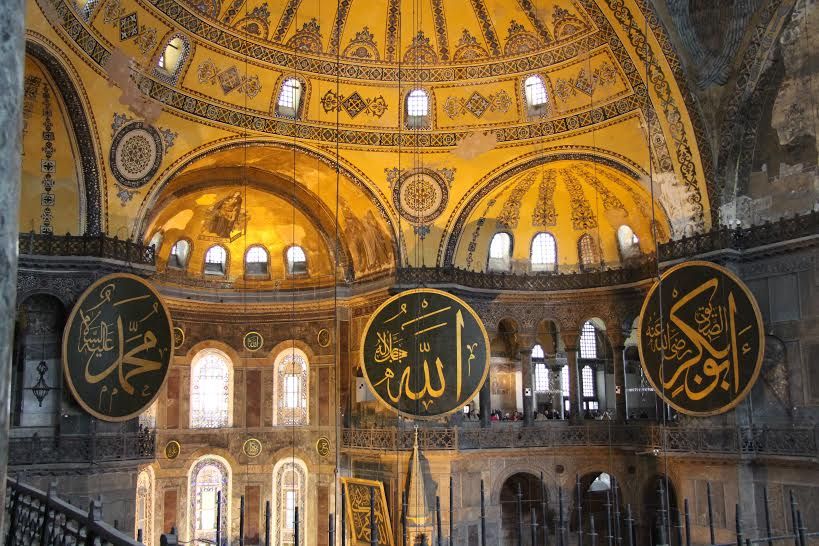 Haga Sophia
*Hagia Sophia is closed on Mondays.
Alice then moved downhill towards Topkapi Palace, where the tales of intrigue, scandal and mystery during the days of the Ottoman Empire capture your imagination. If that doesn't do it, one of the world's largest diamonds, housed in its treasury, surely will. On her way out while walking Alice gets the aroma of roasted water chestnuts... yummieee and off she goes to get herself a few.
Roasted Chestnut Stall
Alice landed up in the archaeological museum... in the café inside this museum you get the best Turkish Coffee and if you are lucky you might meet some who reads your coffee cup after you have finished drinking.
They predict your future – it was fascinating. Whether you believe it or not... it was just fun!
Alice then continues to walk in the direction of the sea and reaches Galata Bridge. This iconic bridge lies enjoys views of the three main waters of Istanbul: the Golden Horn bay, Marmara Sea and the Bosphorus Strait. Duck underneath to a fish and bread restaurant to enjoy one of Istanbul's dearest fast food treats.
After lunch, she heads across the road to the Spice Bazaar for some delectable desserts. This ancient covered market is packed with every spice imaginable, along with souvenirs, teas and some of the most delicious lokum (Turkish delight) around. Alice continues walking and reaches Grand Bazaar – a place you can haggle, bargain and get good deals for souvenirs, leather, the Turkish evil eye and a lot more...
Spice Bazaar
Taksim- Beyoglu: Later in the afternoon after all that walking Alice hops on the tram line which begins near the Galata Tower and travels the length of the grand Istiklal Street, admiring the shops, cafes and restaurants along the way. The ice cream shops are a lot of fun... do grab an ice cream on the cone and see how the ice cream seller gives you a treat!
Alice took the tram to the end to Taksim Square before doubling back on foot to pass back along Istiklal Street.Alice made her way to a rooftop bar to enjoy snacks and the sun set over the city. Her pick was the swanky 360 Bar!Right off Istiklal Street into the Cicek Pasaji (Flower Passage), one of Istanbul's landmark historical buildings. Alice ended up on Nevizade Street for a night of food, drink, music and mayhem before returning to Sultanahmet by taxi.
Takism Square Flower Passage
With this all fun and culture... Alice returned to London the next day buzzing with energy, joy and still wanting more!
Keep exploring: My next column will be on Cappadocia!
Signing off now – Alice a.k.a Anshoo
----------------------------------------------------------------------------------
About the author : Anshoo has been with Tata Consultancy Services (TCS) since 2008. Having earned a master's degree in Sociology from Mumbai University, Anshoo went on to receive her second master's degree in Human Resources from Leeds University Business School.In her capacity as HR Manager with TCS, Anshoo has developed learning initiatives focusing on running culture and communication workshops both internally and for TCS' clients. Her areas of expertise include integrating teams in culturally diverse set-ups, managing career aspirations and designing interventions for organisational development. Anshoo has actively contributed to the Future of Work consortium with London Business School.
About her column : "Life is short and the world is a large place, I want to experience everything I can. With this brief introduction, be part of my journey each month as I explore new countries and different cities in the world. Explore the places and get tips on what you could do… "