Submitted by
Saloni
on Fri, 02/26/2010 - 18:39
Posted in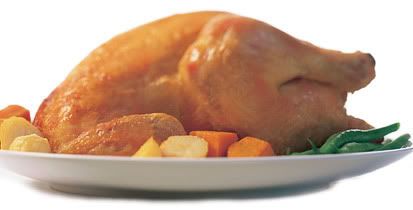 Don't risk your family's health by neglecting these critical poultry safety tips! We'll also show you how to store your chicken so it's fresh and tasty when you're ready to enjoy it.
Chicken Buying and Storage Guide:
1.Chicken like other fresh meats is perishable and should be purchased and stored carefully to maintain top quality.

2.Check the sell/buy date on the package label.This is the last day the product should be sold.Chicken will retain it's freshness for a few days after the date if properly refrigerated.

3.Refrigerate raw checken propmptly after purchase.Never leave chicken in a hot car or a counter top in room temperature.You can store chicken for one to two days in your fridge.

4.Packaged raw chickencan be refrigerated in the original wrapping in the freezer.

5.Freeze raw chicken if not used in two days(See freezing and thawing tips).

6.Never leave cooked chicken at room temperature for more than two hours.

7.If cooked chicken is stuffed,always remove stuffing and refirigerate meating and the stuffing in a separate container.

8.Store cooked chicken for picnics or boxed lunches in an insulated container or ice chest.


When is chicken done?
1. Whole roasted chicken is done when the thickest part of the meat near the bone is no longer pink, the juices run clear, the drunsticks twist easily in their sockets and the meat thermometerinserted in the thickest part of the thigh registers 180 degrees to 185 degrees(white meat should read 170 degrees)

2. Bone in chicken parts are done when you can insert a cooking fork easily an=d the juices run clear.When you cut chicken with a knife, it will no longer be pink.

3 Boneless chicken pieces are done when the center is no longer pink.


Freezing and thawing tips:
1.Remove raw chicken from from the original package.Wrap chicken in heavy duty foil or plastic wrap or store in a large plastic freezer bag.Press air out packagae before sealing and label with date and contents.

2.Cooked chicken should be prepared for freezing as above. If chicken is prepared with sauce or gravy, pack into a rigid plastic container with a tight fitting lid.

3.Always defrost chicken in the refrigerator or the micro wave.Never, never on the kitchen counter.Bacteria multiply rapidly at room temperature.


Quick-Cooked Chicken :
If you need cooked chicken for a particular recipe but don't have any leftovers,try one these timesaving options:
1.For 2 cups cubed, cooked chicken, start with 1/2 lbs boneless, skinless chicken breasts.

2.Poaching: In a large skillet place chicken and 1 1/2 cups of water. Bring to boiling;reduce heat. Cover and simmer for 12 to 14 minutes.or till chicken is tender and no longer pink. Drain well.

3.Micro cooking : Arrange chicken breasts in an 8*8*2-inch baking dish,tucking under thin portions. Cover with vented clear plastic wrap.Micro-cook on 100% power(HIGH)for 8 to 11 minutes.Managing pieces after 4 minutes.(This timimg is for 600-700 watt countertop microwave ovens)

4. Cut up cooked chicken. Cover and chill for 2 hours or till thoroghly chilled.Or, quick chill the chicken by putting them in the freezer for 30 minutes.

Chicken Handling Tips:
For best quality and safety, use these tips when preparing chicken.

1. Was your hands, utensils, and work surfaces with hot soapy water after handling raw chicken to prevent spreading bacteria to other foods.

2. Cut raw chicken on an acrylic board instead of wooden ones.Porous weeden boards are difficult to was throughly.

3. Rinse and pat chicken dry with paper towels before cooking.

4. When grilling chicken keep it refigerated until time to cook.Never place grilled chicken on same plate used to take raw chicken to the grill.

5. Always marinate chicken in the refigerator.

6. Always reheat the levetover chicken dishes to bubbling( about 185 degrees) for the best taste and food.