Submitted by
Roshni M
on Sun, 09/05/2010 - 23:08
Posted in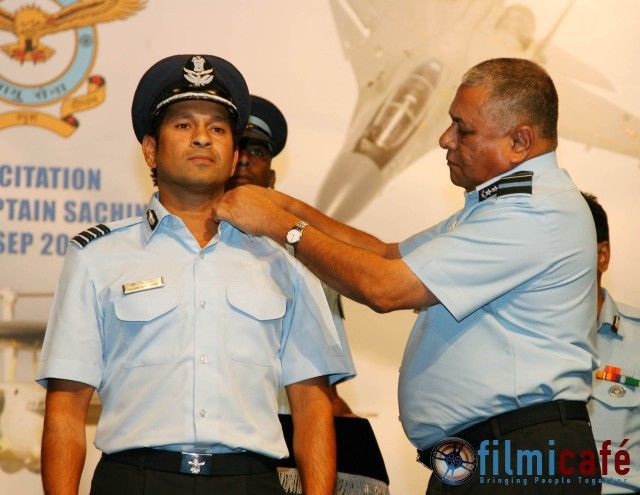 Sachin Tendulkar is India's jaan. We may go through days that we totally detest particular personalities in the nation, but Sachin is eternally loved. The maestro has won a number of awards in the past and you can be darn sure, he will continue to receive more accolades. And this is not just because the cricketer is the best in the world but also because he is one of the most humble and patriotic individuals that India has produced.
More recently, the cricketer was bestowed with the honor of being labeled as the honorary Group Captain of the IAF (Indian Air Force). This honor makes Sachin the first sportsperson in the country to be presented with this tribute in India especially since he has no background in the aviation arena.
But the bigger question is why Sachin. The IAF tag was given to Sachin for his countless achievements in the field of cricket and also for his contribution to the nation. Where do we begin when it comes to his triumphs on the field? The maestro is not only known for being one of the most honest players (read: the cricketer has not been a part of any indecent match fixing scams) in the country. At the tender age of 16, he debuted and has never looked back since. Yes, he has had seen lows where the world believed that he had come to his end. However, he bounced back and regained his stature. In fact, this time he came back with a bang. Post his brief decline, his rise only reconfirmed his stature in the world. And then of course, Sachin is known for his unique batting style and for mysteriously managing to bring India out of iffy situations with his one of a kind bowling. If I were to sit here and list his achievements, it would never end. That is the extent and depth of his success.
As an Indian, Sachin Tendulkar represents the country with utmost graciousness and grace. Ask his fans and they will sing hymns of his cordial mannerisms. But what sets him apart from most other cricketers is his love for the country. Irrespective of the turnout, the cricketer always stands proud of his country and heritage. Whether Sachin is on home ground or abroad, he ensures he never brings shame to his name or the country. Yes, the cricketer takes his country incredibly seriously but that doesn't prevent him from proudly displaying the colors of the flag with great glory and nuance.
It is impossible for us to think of any other Indian sportsman who has represented the country with such poise and benevolence. It is no other than Sachin Tendulkar who deserves and has correctly been given this accolade.
After receiving this great honor, the maestro realized the need to familiarize himself with the Indian Air Force. In addition, he was heard saying, "It is indeed a great honor that I have been considered for the honorary rank of group captain in the Indian Air Force. As an Indian, I am very proud to be associated with this dynamic force and I shall do my very best to be a brand ambassador for the IAF."