Submitted by
Nishiroy
on Fri, 09/14/2012 - 07:30
Posted in
Be Barfi! As in the sweetmeat? No, that's not what I mean at all! Anurag Basu with his latest offering Barfi!, hopes to make the word 'Barfi' a synonym for 'happy'. So, if I said, "chill, be barfi", I mean 'Be happy'!
Cast: Ranbir Kapoor, Priyanka Chopra, Ileana D'Cruz, Saurabh Shukla, Rupa Ganguly and Jishu Sengupta
Watch it for: It is not the typical Bollywood Hindi movie fare. The main protagonists ( Ranbir Kappor, aka Murphy, who is known as barfi eventually, and Priyanka Chopra aka Jhilmil) do not have dialogues! Now, that is a paradigm shift, as far as regular Bollywood fare goes, where more often than not, a movie gets famous for its snappy dialogues. Most of the story is via narration, and Ileana D'Cruz (a popular Telugu film actor) has done a commendable job. She has been stylized well in the movie and her large doe- shaped eyes, emote very well too. Her character, Shruti Ghosh, is very believable, compared to the rest: it is really the nonlinear characterization, which makes it so. The situational comedy, with dollops of Chapalinsque flavor makes the movie a fun watch: Rabir Kapoor does this to perfection. Granddaddy Raj Kapoor, I am sure is one happy soul today, for no one could have portrayed the role of 'Barfi' so endearingly: the always–happy, no-matter-what, do-gooder.
Priyanka Chopra's repertoire of movies is getting impressive over the years. While she does do a wonderful job of trying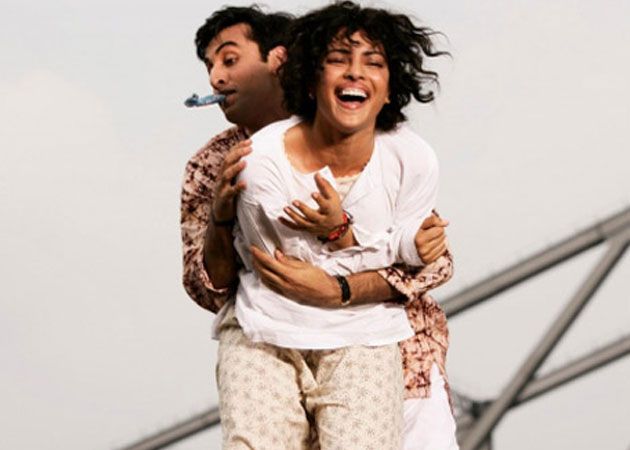 to play a differently- abled girl. I can almost visualize the slew of brickbats, which may come along from the medical fraternity for the depiction of an autistic. But she is great nevertheless (if you are not looking for the finer nuances of autism)
Pritam's soulful numbers hold the movie together. The music plays a very important role, because remember, there are no dialogues. Barfi is vignettes of gorgeous paintings of Darjeeling and Kolkata, thanks to the excellent cinematography by Ravi Varman; it is sure to evoke a sense of nostalgia for anybody associated even remotely with Bengal.
Saurabh Shukla as the bumbling cop and Rupa Ganguly as Shruti's mother are good. Jishu Sengupta has a short role, but fits his part well: of a good-looking yet non-emotional husband.
Blahs: It is long; it tends to slow down in parts. Some crisp editing would have immensely helped. In the age of such great prosthetic makeup, I am sure Anurag Basu could have made the aged-version of his characters more authentic. Just a salt and pepper wig will not do, Mr. Basu!
Don't watch: If you like action-packed stuff, avoid the movie. Barfi is like a slow meandering river, which tends to take some twists and turns, but mostly a gentle flow.
Watch it: If you are a romantic at heart. If you believe, that love is not about getting the right or the perfect person. If love for you means, a deep connection with another person, and how much you are able to build it over the years, then go watch it.
Rating: 3.75 (Would have given it a 4, had it not been for bad old-age prosthetic makeup)
A Sneak Peek :