Posted in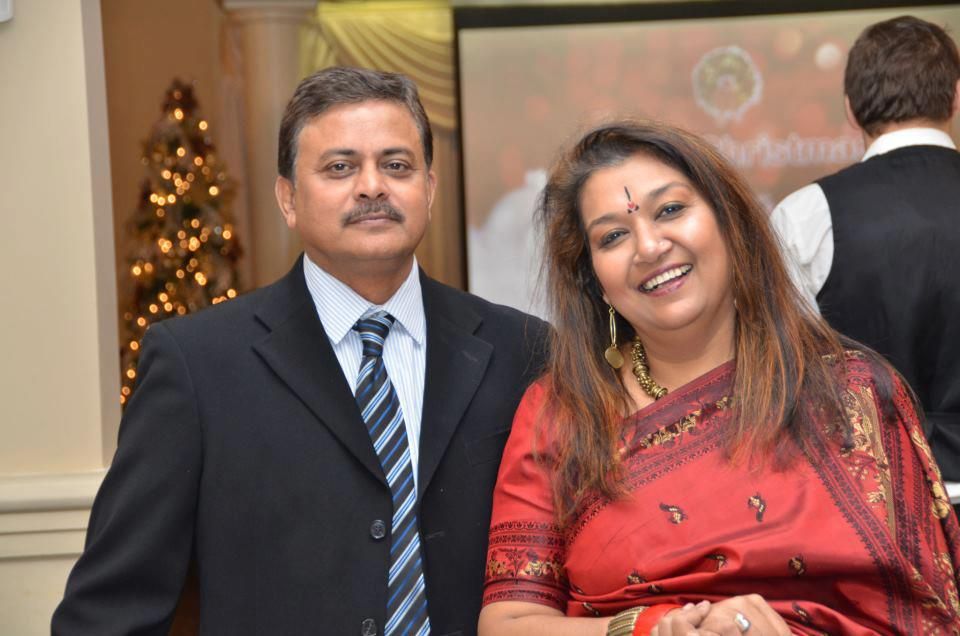 Dear Readers,

Welcoming you to my Column, where I wish to share my journey as an Art of Living Teacher with you.
Art of Living has been an integral part of my journey of life. Doing the Part 1 Course, which was then called "Basic Course", was life transforming for me. My husband who was ill and down with a rare Arthritic pain had to join the Course, but because of his reluctance I went and sat down; with no clue what I was going to experience.


The course was actually an experiential workshop. It imparted breathing techniques. As I started the 20 minutes breathing practice package every single day, like my life-line, it brought a lot of depth to my life and showed me the larger purpose of life. I started seeing things differently. It opened up a new perspective towards life. I felt I could really discriminate between what is really real and what is my perspective. That it is natural for the mind to get caught up in emotions. That the duet of the breath and emotions has been there since we came into this world. But we dont have to be stuck in emotions the whole time and lead a life dictated by emotions. When I learnt the breathing techniques, it helped me to dance better to this duet. More importantly, it helped me to control the duet! So the next time you are caught up in any emotion, take a deep breath, SMILE and remember – YOU ARE IN CONTROL!

After a few advanced courses, I was convinced that this is what I was looking for in life. I wanted to volunteer my time as an instructor and take this knowledge to more people, particularly to those who are mired in ignorance and misconceptions and deprived of the immense benefit the Art of Living courses offer.

Today we are both Art of Living teachers , my husband and I, carrying on this work as a volunteer endeavor, apart from being thorough professionals in our respective sectors. We moved countries from India to Canada, but our work continued as Art of Living is spread over 150 countries across the globe.

The corner stone of Art Of Living is Sudarshan Kriya, a powerful breathing technique that cuts down stress and helps individuals focus on the present moment. Today this program is taught around the world as one of the many Art of Living courses. His Holiness Sri Sri Ravi Shankar founded the Art of Living Foundation, a UN affiliated non-governmental agency, and is the inspiration behind many charitable organizations devoted to the service of others.

Doing the course was an experience but coming in close proximity with Sri Sri who is lovingly known as Guruji across
the globe is another experience. Coming face to face with him is experiencing the infinity of love. Tears kept rolling down when I first saw Him in Kolkata and had no answer as to why I was in that state. It was hardly important whether He was saying something or not. A most delicate feeling suffused every level of my being, as if a fountain were streaming from within.

In His presence, buds blossom, eyes light up and a wave of peace and comfort heals all wounds in the heart. A drop of love resonates in the stillness of Being, taking one beyond time and space into eternity.

Guruji was born in Papanasam, Tamil Nadu to Smt. Visalakshi Ratnam and Shri R. S. Venkat Ratnam. He was named "Ravi" (a common Indian name meaning "sun") because his birth was on a Sunday and "Shankar" after the 8th century Hindu saint Adi Shankara.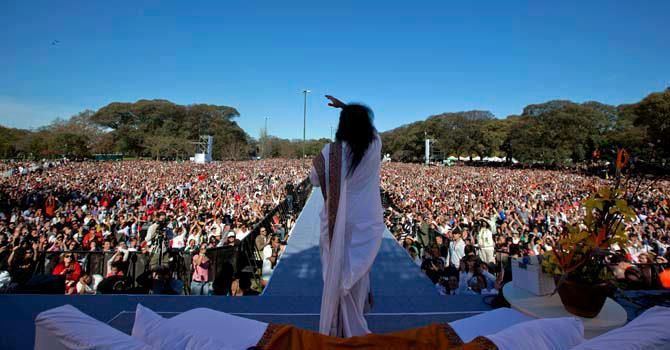 He was a gifted child. By the age of four, He was able to recite parts of the Bhagavad Gita, an ancient Sanskrit scripture and was often found in meditation. His first teacher was Sudhakar Chaturvedi, who had had a long cooperation with Mahatma Gandhi. He holds degrees in, both, Vedic literature and physics and also a graduate degree in Bachelor of Science from Bangalore University.

After graduation, Guruji travelled with Maharishi Mahesh Yogi. The 1980s saw him initiate a series of practical and experiential courses in spirituality around the globe.

Guruji says that His rhythmic breathing exercise Sudarśana-Kriyā came to Him in 1982 "like a poem, an inspiration", after a ten-day period of silence on the banks of the Bhadra River in Shimoga, state of Karnataka, adding, "I learned it and started teaching it".

Guruji's ability to connect with people is perfectly effortless and His spiritual appeal, irresistible. To use the words of one of his ardent followers, Sri Sri is as compassionate as Jesus, as playful as Lord Krishna and as erudite as Adi Shankara. He has this uncanny ability of helping people unburden their stress-filled minds. His invaluable sayings act as balms for wounded souls.

Words by themselves are inadequate to express what a Master or a Guru brings to one's life. His presence, His love, His grace and His smiling attention can uplift one from the miseries and the sorrows that life brings us.As long as you have Guruji in your life, you don't really need anyone else. However, if you have another person in your life, who shares the same love that you do for Guruji, for the Knowledge, for Seva, Sadhana and Satsang, then both of you can pull each other up and such a relationship can be an asset for you, and the other person. You need to be whole and complete by yourself. And the other person needs to be the same too... Art of Living is a way of life… it opens up communication and fosters openness in your relationship. It may seem difficult to commit to this at first, but by nurturing your relationship with spirituality in marriage, you'll likely find yourselves greatly enriched and coming back for more!

Please stay tuned as I will be sharing wisdom and insights here to motivate and encourage, offer comfort and reassurance, and provide insights for daily living.
----------------------------------------------------------------------------------------------------
About the Author : Sanjukta Das who is settled in Canada now, is originally from India. Sanjukta is an International Art of Living Teacher and she has been conducting Art of Living workshops.A deeply philanthropic person Sanjukta is engaged in different roles in the community.In her present professional role as a Placement Advisor in Humber Business School, her mission is to help students recognize and reach their highest potential.In her role as World Women Global Council's regional project director of Canada, she sits in the advisory council.To add on, she travels,advocates, teaches, sings, smiles and serves, and strives to excel as an instrument of His Holiness Sri Sri Ravi Shankar, whose goal is to put the smile back on every face on this planet.