Posted in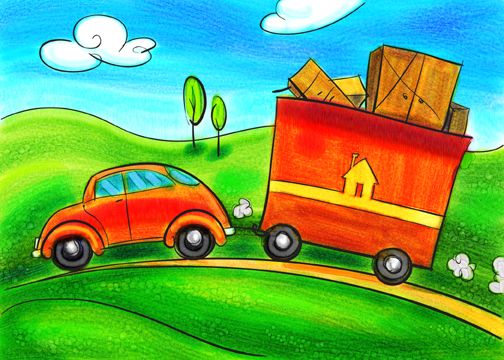 Making moving easier for the kids
In today's robust world, as families we have to relocate or face the prospect of moving.Disruptive as moving can be for parents, the experience can be even more traumatic for kids, who may not be a part of the decision to move and might not understand it.
For very young children, moving house can be very hard indeed. They have become accustomed to their home, their room, their friends and their routines and to leave all this can throw them into confusion.
Having moved multiple times within India and internationally, I have learnt something new just about moving, with each experience. There have been great moments and some not so awesome.
As parents we can make the 'goodbyes' easier on the kids by following these tips:
1) Discussing the Move with kids
So you know you are going to make that 'big' move. The first and foremost thing to do is to prepare your child or children. The best possible way to do so is by talking about it to them. Include the kids in the conversation. Don't give them surprises at the last minute.Talk to them. Let them voice out their concerns. Listen properly to their concerns and tell them to come to you with their fears, anxieties and questions. And never dismiss their worries as being trivial because they are anything but that to your child.
2) Assure them
Children might sometimes feel confused about what they can take with them and what they might not. In case, you are not taking all your furniture or TV or other items explain to the kids why you are taking what you are taking. The reasons for leaving behind some things. Assure them that all their toys, books, clothes and belongings will be put into new boxesand taken to the new house.Younger children, especially, can be very confused as to why the walls are not being taken. Patiently, explain them what can be taken and what can't
3) Make the move fun
There's a lot to be done- bank accounts closed, house lease to be sorted, electricity and water supplies disconnected especially if you are moving countries. This can be taxing on you as parents. Double this with the anxiety of house hunting, school hunting and many other challenges. Still, the move can be fun. Stay positive and make the change look fun and exciting to the kids. Tell them, what new things they will see and do in thenew place. The exciting world that awaits them.
4) Let them show their angst
It's a big move for the child. They might act and behave a little different from their usual way. Some children scream and get aggressive at the slightest provocation. They are not able to understand what's going on and this is how they give vent to their feelings. Stay calm and patiently explain them how things work in a new place.
5) Routine is important
Children like their schedules. Once you have moved to the new house it's important to continue those soccer classes, rituals such as family movie night or family game night. Any routines or rituals that you had been following earlier should be maintained as much as possible.
--------------------------------------------------------------------------------------------------------------------------------------------
About the Column : Chai Latte and me, talks about anything and everything under the sun. Am an expat and have been living the typical expat life (if there's one). We all go through various challenges and experiences in our daily lives as expats. This space is my rant about these experiences at times sweet, once in a while bitter and for sure, quite a few times sour. Enjoy, my journey with me by exploring it with me through this column.
About the Author : Global nomad' that's how Veena describes herself. After having lived in 3 culturally different countries: India, Dubai and now Australia, she believes life is an exploration. Keep exploring. Speaker at the Melbourne's prestigious Emerging Writers Literary Festival, Veena has blogs and articles published in HuffPost, Times of India,mycity4kids.com, BuzzingBubs.com, reboot.in, to name a few. A freelance marketer by the day and an author-in-the-making by evening, she is currently working on her first book, from an expat woman's point of view of course!
Image Courtesy : http://www.goodstuffmoving.com/