Submitted by
winesbyanj
on Wed, 06/08/2016 - 20:04
Posted in
Summer white wines!
"White Wine Please" – It's summer and it's time to break out those whites. So the next time you are about to order a glass of white, keep these four different varieties in mind and make your choice based on your personal taste preferences. Although there are hundreds of different varieties in this world -between old world and new world grapes, I'd like to talk about four of the most common, most commercial and most readily available white wines in almost all parts of the world.
Chardonnay:
Chardonnay now grows in almost every part of the world with the United States and France being the leading producers of this variety. It originated in Burgundy, France but in more recent years the rest of the world has learned this is a fairly easy grape to grow in almost any kind of region hence its popularity around the world. This wine is usually available in an oaked or unoaked type (the French Chablis is the unoaked variety, although California and Chile are now also large makers of the unoaked type). The grape is widely used to make various types of still and sparkling wines available in today's market, including champagne and roses.
This type tends to be a dry, medium to light body wine, and varies in acidity – depending on the region it is from. It usually contains fruit flavors of lemons, pears, and some tropical flavors like guava and pineapple - with a hint of vanilla or even coffee. Given its golden, yellow color it is often described as buttery, creamy, and sometimes very oaky. Best paired with grilled seafood, white sauce pasta and risotto dishes, or roasted chicken.
My personal fave (around $20): Bourgogne Blanc - From Burgundy, an unoaked simple wine with flavors of apples and minerals.
Pinot Grigio/Pinot Gris:
This grape originated in France where it is appropriately known as Pinot Gris. Across the border in Italy it is known as Pinot Grigio. While French in origin, it is really the Italians that we have to thank for bringing such huge global recognition to this variety. Pinot Gris comes from the Alsace region of northern France; this type usually has a fresh, clean, crisp taste with relatively low levels of acidity. It also grows in the cooler climates of Germany, South Africa, New Zealand, Oregon, Washington and California.
Pinot Grigio, the second most popular wine in the United States has very pungent flavors of green apples, pears, peaches, lemons and limes and sometimes even honey. Typically, an easy drinking wine, it is best paired with shellfish, green salads, basil and tomato sauces, as well as pizza.
My personal fave (under $20): King Estate, Pinot Gris from Oregon featuring fruit forward aromas boasting citrus and tropical fruits.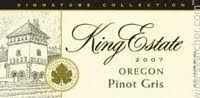 Riesling:
Riesling is a white grape variety which originated in the Rhine region of Germany. Riesling is an aromatic grape variety displaying flowery, almost perfumed, aromas as well as high acidity. It is used to make dry, semi-sweet, sweet, and sparkling white wines. It is also widely grown in other parts of Europe, Canada, New Zealand and South Africa. In the United States, you will find this grape abundant in California, Washington and New York as it thrives in cooler climates.
The primary fruit aromas in Riesling are nectarines, apricots, honey-crisp apples and pears. It is a very nose sensitive wine, which means you begin tasting it as your nose picks up on its aroma even before your first sip! Riesling is very high acid, almost to the level of a tart fruit juice like lemonade and is often combined with residual sugar to balance the flavors. Although there are many dry varieties available, you will find just as many off-dry and semi-dry wines in this type. So for you sweet wine lovers, this one is a god send. It is usually pale yellow in color, with bright green tinges that emphasize its characteristic freshness. Rieslings are best paired with spicy foods such as Indian or Thai cuisine as well as Cajun styled fish or even Mexican and smoked pork dishes.
My personal fave (under $20): Ravine's dry Riesling from NY State. Offers aromas of white flowers mingled with pear, apple and citrus notes followed by a lingering mineral finish and a vibrant acidity.
Sauvignon Blanc:
Originated in the Bordeaux region of France, Sauvignon Blanc is grown all over the world and may also be known as Fume Blanc in some regions. It is largely produced in New Zealand but very prevalent in France, Australia, Chile, South Africa as well as the United States where it mainly grows in California, Washington and New York. Sauvignon Blanc translates to "wild white" because of how wildly the grape grew like weeds throughout the French region. The grape soon traveled north to the Loire Valley in France and this is where the French renamed it to "Sancerre", after the region in the valley where the wine was born.
The flavors range from zesty lime to fragrant apricots. It also encompasses herb like flavors including bell peppers, gooseberries and fresh cut grass. The crisp, elegant and fresh flavors of this wine make it a perfect accompaniment to many different types of cuisine. Creamy cheeses, French food, sushi, sea bass, and fresh herbs and vegetables go hand in hand with this wine.
My personal faves (around $20): Two distinct wines in this case! The Sancerre, Reserve Durand from the Loire Valley in France dazzles with rich grapefruit and gooseberry aromas. And this summer I also love the Huia, Sauvignon Blanc from New Zealand with its spicy jalapeno notes blended together with perfect grassiness and tropical fruits make this a yummy wine!
---------------------------------------------------------------------------------------------------------------------------------
About the Author : Anju was always a consistent wine drinker but her love for wine led her to build her own wine cellar where she began collecting favorites and rare bottles. After her tastings, she began maintaining meticulous tasting and pairing notes to share with family and friends. Anju began to understand the complexity and beauty of wine and became intrigued by the wine making process. Her love for wine led her to vineyards across the country which further strengthened the relationship. And so began her journey…
The now mother of two decided to switch gears and follow her passion for wine. She began working with Swirl Events, a New York City based wine tasting events company. Her role at Swirl enables her to host events for corporate and private functions. More importantly, it provides the platform to learn, educate, inspire and spread awareness.