Submitted by
Foodie
on Sat, 05/02/2009 - 15:26
Posted in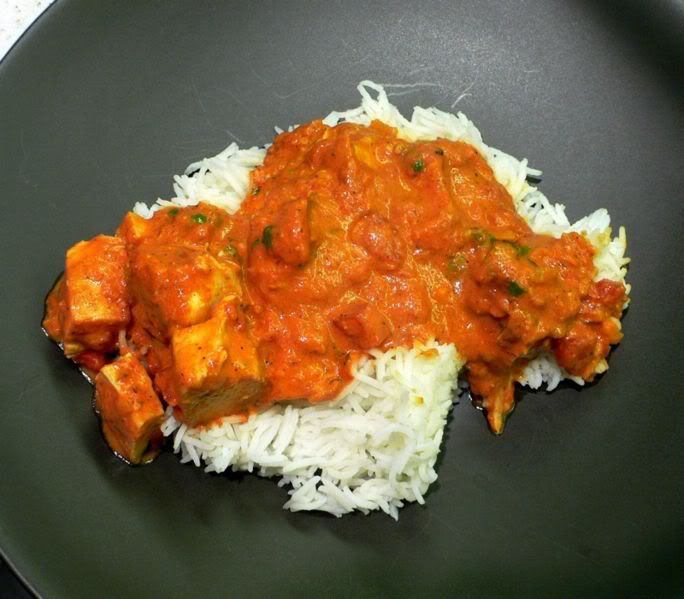 Chicken tikka masala is chicken tikka, chunks of chicken marinated in spices and yogurt then baked in a tandoor oven, in a masala ("mixture of spices") sauce. There is no standard recipe for chicken tikka masala; a survey found that of 48 different recipes the only common ingredient was chicken. The sauce usually includes tomato and either cream or coconut cream and various spices. The sauce or chicken pieces (or both) are often coloured orange or red with food dyes or natural colouring such as turmeric powder mixed with tomato puree.
The origins of chicken tikka masala are disputed. A widely reported explanation of the origins of the dish is that it was conceived in a British Bangladeshirestaurant in Glasgow in the late 1960s, when a customer, who found the traditional chicken tikka too dry, asked for some gravy. The chef supposedly improvised a sauce from tomato soup, yogurt and spices.This claim has not been incontrovertibly proven, and there are other accounts and hypotheses of its origins. It is generally accepted as an attempt to create an Indian dish that would appeal to the British palate.
Chicken Tikka Masala Recipe :
Ingredients:
1 cup fresh yoghurt (should not be sour)
1 cup finely chopped fresh coriander leaves
2 tbsps ginger paste
3 tbsps garlic paste
3-4 tbsps garam masala
6 peppercorns/ 2 dry red chillies
3 tbsps lime/ lemon juice
1/2 tsp orange food coloring
1 kg chicken (breast or thigh) skinless and cut into 2" chunks
1 large onion cut into very thin rings
Lime/ Lemon wedges to garnish
1 tsp Chaat Masala (available at most Indian groceries)
Preparation:
Grind the chopped coriander (keep some aside for garnishing) and all other marinade ingredients (except yoghurt) to a smooth paste in a food processor.
Pour the above mix into a large bowl and add yoghurt. Mix well. Add the chicken pieces and mix well. Cover the bowl and refrigerate. Allow to marinate overnight.
Thread the chicken onto skewers and keep ready.
Preheat your oven or grill to a medium high temperature.
Place the skewers on the grill racks in your oven with a tray underneath to catch drippings. Roast open till the chicken is browned on all sides and tender.
Remove from skewers and put the chicken in a plate.
Put the onion rings in a separate bowl and squeeze lime juice over them. Now sprinkle the chaat masala over them and mix well so the onions are fully coated.
Garnish the Chicken Tikka with these onion rings and serve with rice/ naan.