Submitted by
Antara
on Fri, 05/07/2010 - 22:06
Posted in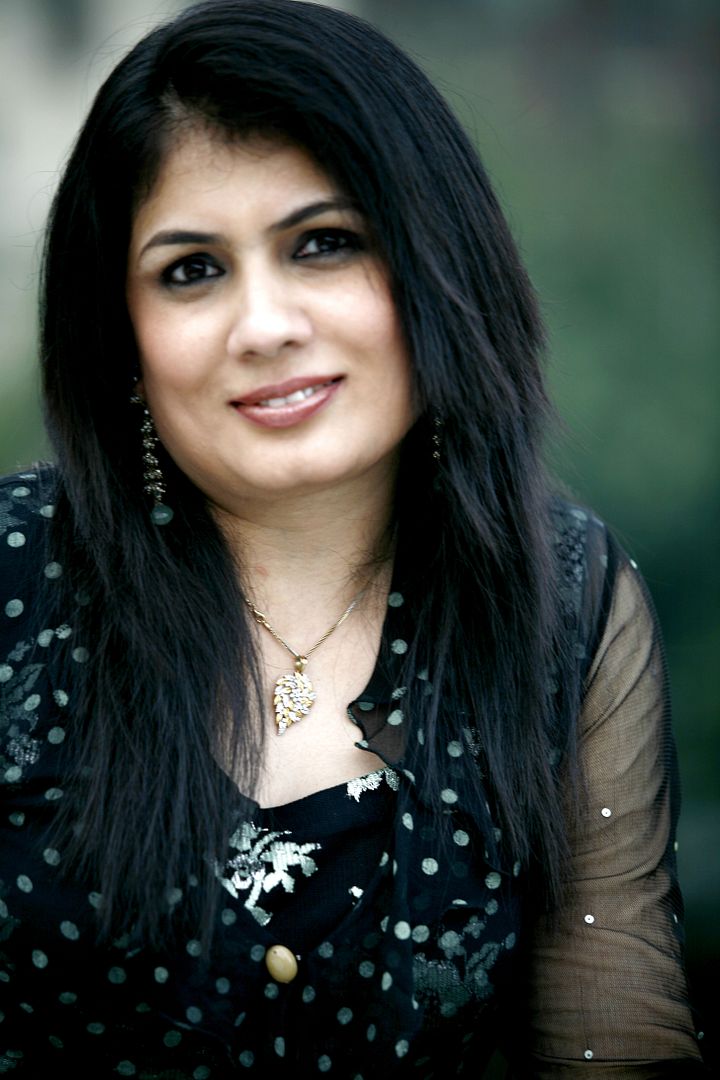 Meet ace designer Jaya Misra who has journeyed the tumultuous road of fashion to establish herself as an expert in the realm of fashion design. A topper from NIFT, Jaya had forayed into the field of fashion design to find a suitable outlet where she could channelize her creativity.
Thus was born Lustoruz, a company which seeks to recreate traditional Indian design extravaganza and interpret it in a contemporary fashion. A firm believer in living the life to lees, Jaya's creations emphasize a Bohemian chic that is coupled with subtle sensitivity. Her main focus nonetheless remains to be the bridal couture. Jaya dresses up the modern bride like never before. In fact her creations draw on the traditional Indian motifs but make them relevant to the modern sensibilities. Capturing the eternal beauty that is inherent in every woman Jaya draws on different shades of life to create designs that are truly fashionable.
Jaya's collection "The Desi Girl" has created a look that would showcase India's ethnic style to it's maximum glory to the London audience during the "Indian Premium London Fashion Week" starting May 9th.
"Desi Girl "draws its inspiration from the myriad shades of India. What sets this unique collection apart is its penchant for simplicity which the designer feels is intrinsic to Indian fashion. "India is a land of diversities and Indian fashion is complex in the sense that on one hand it upholds simplicity while on the other hand it celebrates richness. Take for instance the contrast between a dhoti and a bridal wear — to me this contradiction forms the essence of India fashion and in my collection this time I have tried to capture it," designer Jaya Misra says

Enjoy the "Desi Girl" collection in the slide show (Click on the Play Again Tab to re- play the slideshow)
It was our pleasure to talk to this creative genious, in the interview Jaya has talked about her inspiration,her challenges and her collection.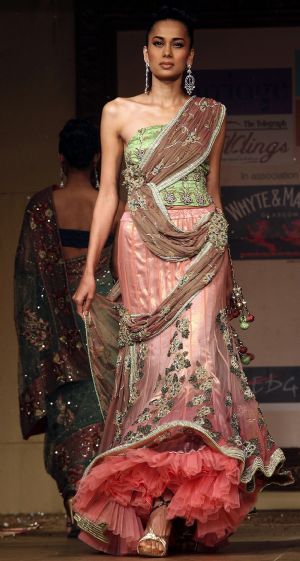 B'Khush : How did you get into fashion designing?

Jaya : For me fashion has always been a way of life. Right from my childhood I was the one who had the most fashionable dresses herself and who loved dressing up not only herself but her dolls too. So from the very start I knew that I would be in a profession that had something to do with fashion – fashion designing was thus an obvious choice.
B'Khush : Who or what has been your inspiration?
Jaya: An innate sense of style and the urge to look good all the time – I was extremely moved by well dressed ladies like Princess Gayatri Devi, Jacqueline Kennedy and had always aspired to be the same.
B'Khush : When you are designing something new..what inspires you?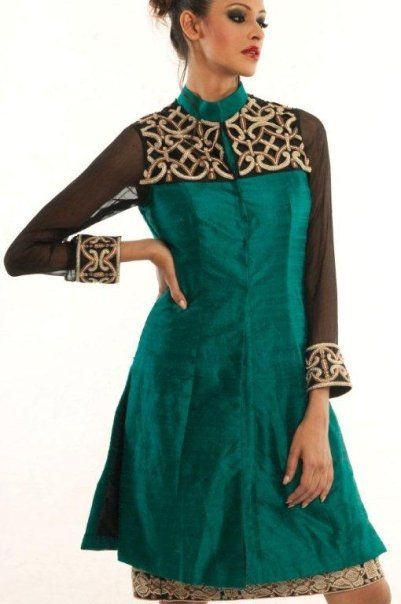 Jaya: My surroundings are my inspiration. Life as a whole enchants me with its beauty and I take my inspiration from nature, especially flowers.

B'Khush : What is your philosophy about the Art of Fashion?
Jaya : Love, luxury Liberty – A love for life, a taste for luxury and the liberty to be what you are

B'Khush : How would you describe the present scenario of the Indian Fashion Industry as compared to the west?
Jaya : Fashion is intrinsic to India. Look at our village belles….even they are so naturally gorgeous. I believe Indians with their bright colors and fondness for accessories know naturally how to look good.
B'Khush : What's your take about the "Fashion Weeks" that happen in India? Do you find any flaw in the adminstration of such events?
Jaya: Fashion weeks are welcome changes in the Indian fashion industry as it allows many new designers to showcase their creations in front of audience.

B'khush: What are the challenges you've faced so far in your journey as a fashion designer?
Jaya: The challenges were many. Right from being a women entrepreneur whom people often tend to ignore to establishing your own fashion identity – there were many challenges. However if one has a quiet sense of purpose then he or she can overcome these obstacles.

B'Khush : What is the most unique thing in your creation, that seperates you from the rest?
Jaya: My love toward my ethnic roots and my creativity that allows me to fuse traditional with contemporary styles.
B'Khush : What will be your meassage to the gen next who wants to be fashion designers?
Jaya: Be innovative. Don't be afraid to experiment!

B'Khush : Finally some tips for our readers to look beautiful in the summer?

Jaya: *Stay away from sun
*Wear pastel shades and white
*Go for heavy eyes and subtle make up
*Use a nice perfume and stay fresh.