Submitted by
Khushboo
on Thu, 10/15/2015 - 08:08
Posted in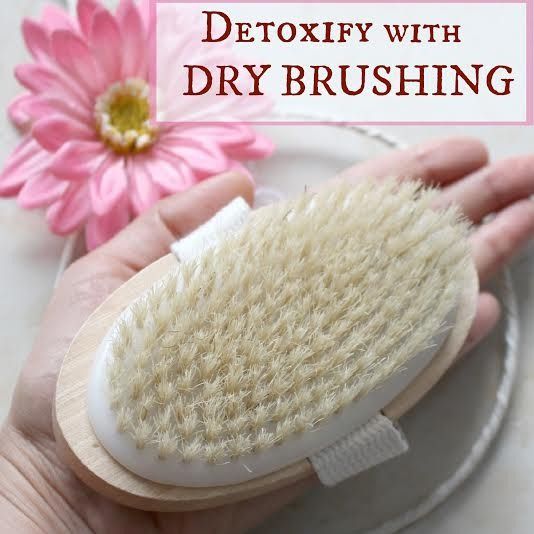 You brush your teeth, you brush your hair. Have you ever thought of brushing your skin?
Dry skin brushing is an ancient technique used to eliminate toxins. Recently it is gaining popularity. It is popping up in Spa menus of resorts and hotels.
It has a number of health benefits and it cleanse our body inside out.I first read about Dry brushing in Kris Carr's book Crazy Sexy Cancer. I tried it and waspretty amazed by the results.
Try this for a month and see the results for yourself.
What is DRY BUSHING?
Dry brushing is brushing your skin with a natural bristle brush in a standard pattern. This helps in keeping the skin pathways clean and clear so that toxins and waste can leave the body easily.
BENEFITS OF DRY BRUSHING
∙ Exfoliates the skin and unclog the pores. It helps the skin breathe by keeping it clear of debris.
∙ Reduce appearance of cellulite by loosening the fat deposits below the skin
∙ Improves the blood circulation and energize your body.
∙ Improves the skin texture. Make it smooth and soft.
∙ Boost up the lymphatic circulation thereby facilitating the elimination of toxins.
∙ Rejuvenates your nervous system.
HOW TO DO IT
∙ As per experts, start brushing from your feet and work your way up your body moving towards your heart. Always make sure to brush toward your heart, since that's how your lymphatic system flows naturally. Brush your feet, legs, thighs,stomach, back, arms, shoulders, even armpits. Dry brushes come with instructionsusing one is actually quick and easy. Once you get a hang of it, you will beaddicted.
∙ Brush several times on each area, around 5 to 10 times. It takes about to 5 to 10 minutes to brush your entire body. You can brush your face too but with a separate
brush specifically meant for facial and delicate area exfoliation.
∙ Do not brush too hard. Especially be gentle on delicate and sensitive areas.
∙ Follow with a shower and do not forget to moisturize your body.
∙ The best time to dry brush is in the morning before a shower or bath. You can also do dry brushing before workout and once you are done with your exercise routine
take a shower.
∙ Twice a day is recommended for best results.
∙ Clean brush with soap and water at least once a week. Dry the brush under the sun to prevent any mildew accumulation.
IMPORTANT NOTES:
∙ People with certain medical and skin conditions should avoid it. If you have eczema, psoriasis, diabetes, high blood pressure, skin infection you should avoid dry brushing. If you have any other serious medical condition consult your doctorbefore getting into dry brushing.
∙ Avoid delicate and sensitive areas like nipples. Do not brush skin if it is broken or inflamed.
∙ Don't brush too hard. The skin should feel stimulated not irritated.
∙ Make sure your skin, as well as the brush, is dry before you begin dry brushing.
So all you need is a dry brush and no other skin care product.
∙ Use natural bristle brush. Stay away from synthetic bristles as it can be harsh on skin. These brushes are available in most health food stores and also online. Most brushes cost anywhere from $8 to $12.
Dry skin brushing has a host of internal and external benefits. A few minutes investment daily will leave you as well as your skin energized and rejuvenated. So give it try and share your experience!
-----------------------------------------------------------------------------------------------------------------------------------
About the author: When I was in India, I was a Financial Service Consultant with the MBA degree, screwed up in a 9-­5 full time monotonus job. I got married and moved to USA in 2009. Most of us dream of that.But truly speaking the day I landed at LAX Airport I was not excited. I was only missing my family,relatives, friends. The flow of emotions were so intense that initially I used to feel, when will I go back..back to my country my people. I used to nag..nag a lot. Days passed and I realised thatthere is no way out and I have to stay here at least till my husband's project will continue.That wasthe peak time for me to decide whether to waste this time in nagging or should I make itworthwhile. When you are alone you get so much time to dip your hands in stuff you neverthought of, to understand that your life has a purpose. I got fascinated towards DIYs, healthyliving, crafting, writting and beauty which inspired me to pursue the esthetics course in and Ibecame a licensed Esthetician. I never thought of doing all this when I used to sit in a small bank cubicle. Few of my articles got published in the Indian magazine Woman's Era which boosted myconfindence and I stared blogging. Now every morning I wake up with a purpose,to learn, toshare. I want to learn and grow with each passing day and thats the aim of my life. Simple. Right!
About the column: Through this column I would like to share whatever I learn in the process of making my life better ( DIY beauty products, healthy tips, crafting, and much more). So stay tuned!