Posted in
When I was a kid, my parents wanted me to learn drawing and painting and so they appointed a teacher for me. Monisha di, who used to come to our house and give me art lessons, was then a student of a reputed Art College. I learnt well from her, won medals and certificates and made my parents feel proud of me.
I was then still in my early teens and I adored my art teacher, who was an exceptionally pretty and talented college going lady. I kept waiting the whole week for her not only for the Saturday afternoon class with her but to see what she would be wearing next and how she would be designing her bindi and do her hair.
Every Saturday, just sometime before my class ended, a bearded young man, carrying a Shantiniketani jhula, used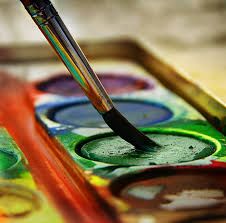 to come and ring our doorbell. That was Deepankarda, my teacher, Monishadi's friend. He was a very affectionate person and after sometime, I started looking forward to Deepankarda's visits too.
He would come every Saturday, without exception, enter the dining room, that is where, I had my art lessons and would choose the farthest chair, at the other end of our huge dining table, from Monishadi's seat. He chose the particular chair so that he could sit directly opposite to his friend and watch her face, while she read his poems, I of course did not realise then.
The old maid who lived with us in my parent's place knew that Deepankarda had come and would then bring in the second cup of tea for my teacher and also for him, accompanied by homemade pakoras or nimkis. Thinking back, I get a feeling that my parents, who were both working, were not at all aware of this Sturday afternoon tea meet.
Monishadi, who used to be a very devoted teacher otherwise, would by that time, invariably lose interest in what I was painting. She would tell me, 'B, colour the rest of the picture as you wish'.
Every Saturday, the same course of events would repeat itself. Deepankarda would very carefully take out a bunch of sheets from his jhula and hand them over to my teacher, his friend. As soon as she got those papers she would forget everything else and start reading them and while reading, she would almost go in a trance. Deepankarda would sip his tea at leisure and keep staring at Monishadi, while she read those papers and very patiently wait for her comments and feedback. I too remained in the room but mostly as a non entity.
Sometimes Deepankarda would take a pity on me and call me near him. He would say, 'Bring your copy and the paintbrush to me. Today I would show you how to make the blue of the sky look different from that of the sea' or 'B, do you know how a palash tree looks in spring, come I will teach you how to paint the trees red and not the usual green.'
Monishadi once took me to New Market with her on one Christmas Vacation for a pastry treat. From there, we walked to Park Street and she bought me my first poetry book. That was a prize from her to me, for coming first in Class VI to VII annual examination. I still remember, what she said to me that day, 'B, do you know that no one can love you better than a poet. Make poetry your best friend.'
I bumped into Deepankarda at a wedding reception, a few years back. I was surprised that he remembered me. He doesn't write poetry anymore, he said. He introduced me to his wife and his children too. Just before I was about to leave, he mentioned Monishadi's name. She lives in Paris but they speak once in a while, he said. He gave me her contact number and an email id too. He surprised me when he said that they both discussed me and those lazy afternoons in our old Entally house when they last met.
Though I had the numbers of both these people on my phone diary, I never bothered to call, neither did I ever think of writing them a mail. I do not know why, I suddenly remembered those two lovely people while coming home today evening. I looked out of the car window and saw that the sky was looking a very different blue. I was amazed to see that the trees along the Dhakuria Lake were looking different too and all decked up in a gorgeous vermillion hue.
I touched the brown leather hand bag, lying next to me, felt the book I have been carrying with me and said to myself, 'I am lucky indeed, I always have with me, my best friend.'
Some relationships in life are such that we may not be seeing each other or even keeping in touch for years but we still remain connected in our thoughts. Some bonding are meant for being forever, distance or circumstances can not ruin them or leave any effect.
----------------------------------------------------------------------------------------
About the column : Champa's column :"Different Hues" will reflect on various aspects of Relationships.
About the Author : Champa Srinivasan is a Post Graduate in English Literature from Jadavpur University. She taught in a college under the Calcutta University for many years and had to give it up once her family started getting scattered. She now keeps herself busy, designing leather items for her family owned export business. She keeps travelling between her two homes and loves to write about her mother, her childhood days and her children, as her past time.