Posted in
Our parrot flew into the house on a hot and humid summer day, seven years ago, hurt and injured. I remember the date. It was 22nd of June. We named her Wanda, after our client's daughter, who was visiting us then, with her father.
We had to put Wanda into a cage, for nursing her, as she could neither hop nor fly. She recovered soon. By that time, we all got very attached to her. She too, had started to pick up all un-birdielike habits. She learnt calling me 'Mumma' and eating Maggi and curd rice. She became a sibling to my children and got very jealous, if I gave any extra attention to them.
We tried many a times to make her fly by keeping the cage door open but she never showed any inclination for that. We did not know whether to feel happy or sad about this. We all felt very guilty about caging the bird and often talked about how to set her free. As the days went by, she became a more human than a bird. She protests if, by mistake, the maid switches off the fan in the room where her cage sits. She calls my children by their names; she doesn't like nuts or green chilies but gorges on spaghetti, garlic bread and Ruffles Lays. She almost repeats every word I say and gets super excited if she hears me talking over the phone for long.
Today, in the morning, I was attracted by an unusual croaking sound coming from the veranda, where her cage was hanging. I kept asking, 'Wanda, ki hoyeche(what happened Wanda)' in my usual way, while answering my mails, because I had never heard calling out like that before. A few minutes later, there wasn't any sound coming any more but I could sense that something unusual happening around, I put down my laptop on the sofa and walked out to the veranda to get a glimpse of the most wonderful sight ever.
There was another parrot, sitting on the railings, facing Wanda's cage and looking at her very intently. It was that other parrot who was croaking and calling her out. The cage door was open. Wanda sat their quiet and unruffled. I expected her to fly out any moment. She didn't.The moment the other parrot saw me, it flew away from my veranda but went and sat at the window sill of the neighbour's window. The bird kept staring at our house and Wanda. A gamut of thoughts and emotions crossed over my mind in those few seconds.
I felt good that my Wanda would be happy to get a companion at last and she too would be flying out in the open! I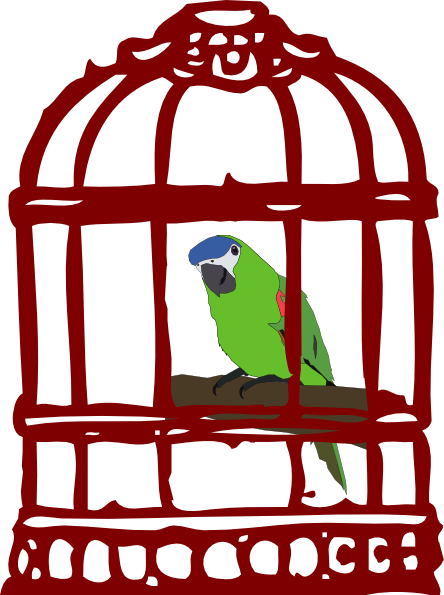 was concerned about how my daughter would react when she wakes up and sees that Wanda is gone. I, even in that fraction of a second, thought that would Wanda ever come and visit us again and would not my son be angry with me when he comes home and sees the empty cage ?
And I was getting myself prepared to face a life without Wanda, she slowly pulled back her cage door, turned her back towards the other parrot, looked at me, like only she can do and cried out 'Mumma'! I was thrilled. I thought I had an answer to my innermost feeling of guilt, of keeping a wild as a captive. I said to myself that yes, the caged birds do sing indeed because with our love and care the cage becomes a loving home and it is a cage no more.
I got busy with my work for the day and tried not to get distracted with Wanda's thoughts but as I was taking a stroll by the lake in the evening, before returning home, I saw a couple unknown migratory birds frolicking in the water along with the flock of common crows. I remembered the parrots who visited us in the morning. I remembered my parrot at home.
As a local train whistled past the other side of the lake, I looked up and got a glimpse of a series of faces, nameless, tired and haggard women, pasted on the shutterless window frames. That was perhaps the ladies special, taking back the women, who had come to the city for day's work, back to their home, I thought. I looked around myself and suddenly felt spellbound by the monsoon green. I took a deep breath to smell the wonderful wetness of the soil. When I was young, I dreamt of sleeping under the sky some day, not on the terrace floor but out in the open, on the bed of grass.
I took a pause from the walk, stood still for a while and felt being one with the nature, unbolted, unbridled. I closed my eyes and next moment, I remembered my daughter's face. She said she would be trying out a new desert tonight. She must be waiting for me to take the first bite, I thought. I collected my scarf, which had fallen off my shoulders and hurried back towards the parking lot.
Is it not true that we strike in this life some bonds, which may or may not be with our own kin and they are often strong enough to give us the magic power of weaving a garden of our own within the four walls, touching the sky by stretching our hands to the ceiling and feeling the joy of clasping the Universe within our palms just by being next to our loved ones.
-----------------------------------------------------------------------------------------------
About the column : Champa's column :"Different Hues" will reflect on various aspects of Relationships.
About the Author : Champa Srinivasan is a Post Graduate in English Literature from Jadavpur University. She taught in a college under the Calcutta University for many years and had to give it up once her family started getting scattered. She now keeps herself busy, designing leather items for her family owned export business. She keeps travelling between her two homes and loves to write about her mother, her childhood days and her children, as her past time.
Image Courtesy : http://www.clker.com/