Submitted by
Tinabasu
on Wed, 06/10/2015 - 08:19
Posted in
Patchouli Squares for Father's Day
Things we need :
Rectangle Mold

Slab of goat milk soap

zigzag pattern cutter

Chrome green Oxide for colorant

Patchouli Essential oil

Transparent melt and pour soap base-24oz

weighing scale

olive oil

Laser Thermometer

microwave
Step1.
Cut the slab of goat milk soap in thin long pieces.
Step2
Place them in any pattern inside the mold.
Step 3
Weigh 24oz of Transparent Melt and pour. Melt it in the microwave for 30 sec first time at 50% power, then 20sec, gradually decrease to 15sec. Keep on doing it until the whole thing melts.
Step 4
Add 3tbsp of olive oil in the melt and pour. Mix Chrome Green oxide colorant. Then add Patchouli essential oil when the temperature of the soap cools down to 130 F. Wait few more minutes to 125F
Step 1-4 in pictures :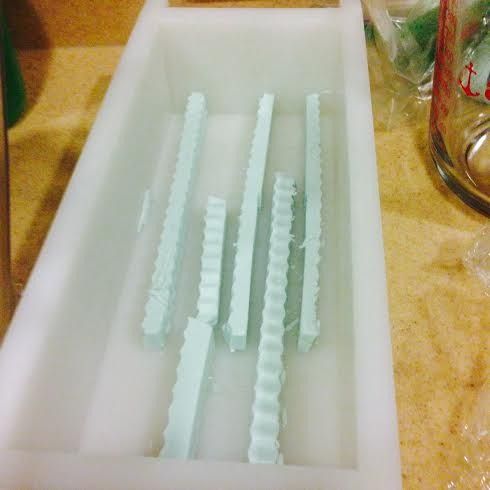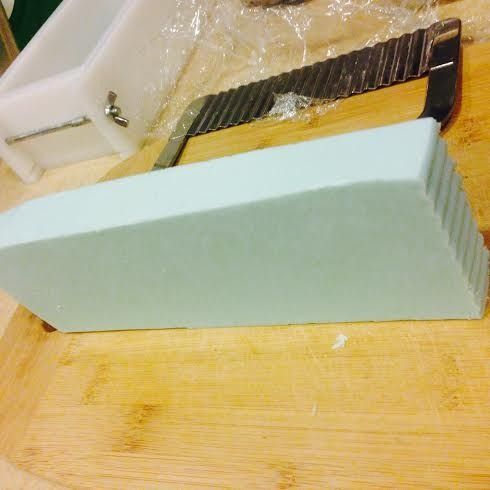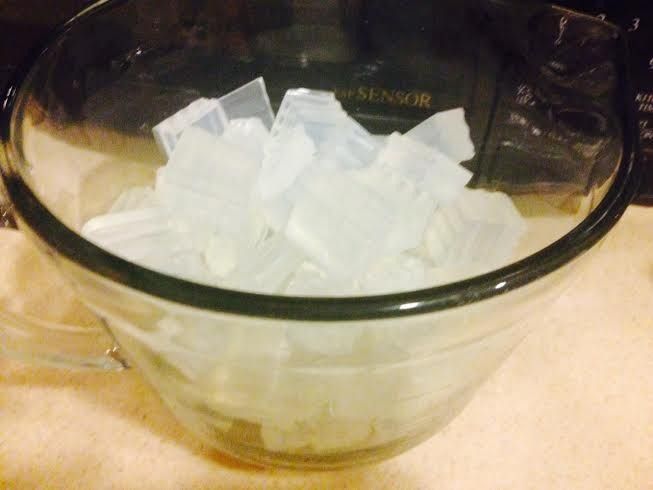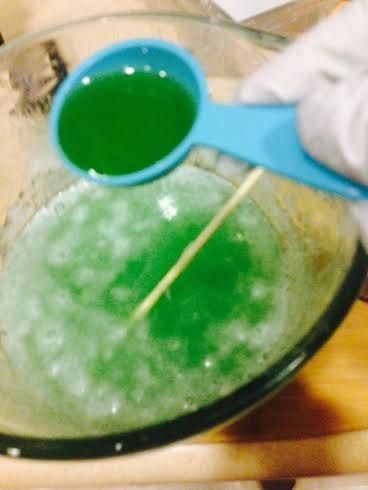 Step5
Meanwhile spray the soap inside the mold with 99% rubbing alcohol.
Step6
Now pour the transparent melt and pour in the mold. Spray with rubbing alcohol to get rid of the bubbles.
Step 7
Let it cool down. Take the bar out and cut it into pieces. Your soap is ready for your dad.
Steps 5-7 in pictures :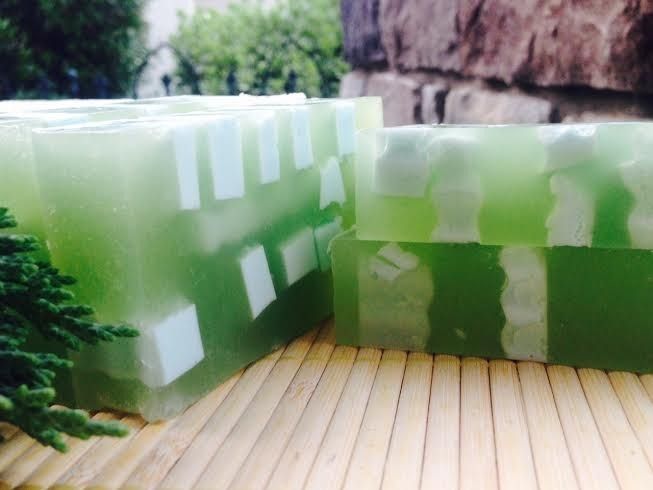 ---------------------------------------------------------------------------------------------------------------------------------
About the Author : I lived in so many cities due to my father's defense job that I can say I am from all over India. I finished my education in 1993 with Bachelors of Science. I came to USA in 1996 with my husband and lived in Fremont, CA for 15 yrs. I was a Preschool teacher by profession. When we moved to Brentwood I took the back seat for a while. I started making jewelry as hobby then it became my profession. After some time I founded my company Shurobhi's, which is a portal of ethnic wear and accessories. Now added handcrafted soaps and thirty-one company brand handbags recently.
About the Column : From my childhood I have always been a DIY, crafty and artsy kind of girl. I remember one time I cut my mom's laces for a silly handicraft project and got severely punished. I completely dismantled my dad's pen and got scolded for that. I still didn't stop, the radio also suffered a surgery. They say curiosity kills a cat, and it happened to me most of the time. As I grew little older, I tried cooking variety of intercontinental dishes. After my 10th grade exams there was a long summer vacation I tried out almost all recipes from magazines. I failed in most of them but learned my lessons too. Whenever I had time I either did embroidery, or metal crafting, or painting. I also like to do gardening and interior designing. Through this column I'll share with you all my love for DIY projects .