Submitted by
Roshni M
on Thu, 09/16/2010 - 22:32
Posted in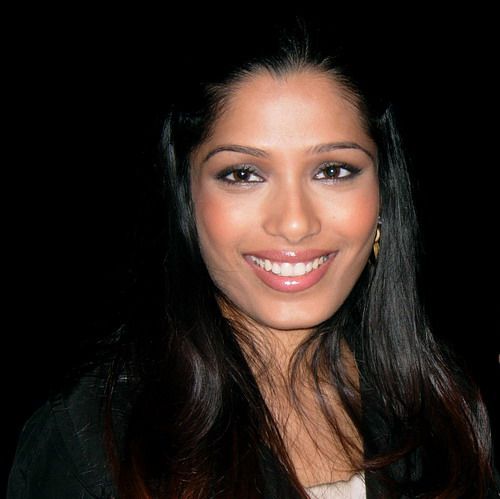 There are very few people who really manage to seriously tick me off. And two that figure on the top of that list are Karan Johar (yawn. I've written too much about him) and Frieda Pinto. The latter is perhaps one of the most outrageously sad personalities I've ever come across. In fact, sad is the right word; she reminds me of a sad puppy ninety percent of the time. And it isn't as though this actress – if you chose to call her one, has oodles of talent. In fact, she lacks zero to no acting skill. What's worst is her ignorance.
Yes, the Slumdog Millionaire who managed to become a star overnight after her miniscule, quite honestly, useless role in a film that I thought was incredibly off beam (don't get me started on that). So we, India, did not accept her but she was simply loved by the west. They couldn't and can't get enough of the Mumbaikar who according to her, is not "famous in India".
Isn't it strange that every Indian actress who heads west to Hollywood all of sudden develops an American accent? And it's not just Frieda Pinto but Mallika Sherawat and Aishwarya Rai Bachchan apparently drank the same water which changes your vocal chords and almost immediately, the Indian twang is abolished. Pinto of course, has sipped from the same stream. The actress has found herself not only accepted by Hollywood but has taken on their accent. Quick word to the actress, amidst your newly found American-British (which is it?) accent, we do find your roots peeking through, my darling. Especially when you pronounce "accept" as "aak-cept".
But that isn't what irks me. It's her sheer stupidity that never fails to anger me and wish I could throw a book at her. She almost sounds uneducated. Some of her most uninformed comments come in the form of "India doesn't have a paparazzi" and "People in India do not take me seriously". Okay. Breathe. Dear Frieda Pinto, you are incredibly misinformed if you really believe that the paparazzi does not exist in India. Please ask the likes of Shah Rukh Khan, Hrithik Roshan and the Bachchan's who find themselves having to dodge the shutterbugs who follow them around the city. The reason they don't subsist in your perception of India is because, yes, like you have correctly realized, you are nobody – and celebrity, no way, in India, and thus they do not feel the need to chase you around. As for not taking you seriously, well, to your name you have a film that did not exactly highlight the greatness of Mumbai. In fact, as a born and bred Mumbaikar, you chose to be a part of a film that basically condemned the city. So yes, you are not taken seriously in your trashy role in a foul film. Slumdog Millionaire was nothing but a fluke which you happened to be a part. Oh and what is up with her claiming she "can't dance" but yet is trained in four styles of Indian traditional dancing? Which is it then?
Sadly, Frieda Pinto has become the international face of India even though she has not been a part of any Bollywood film and probably will not be a part of one anytime soon. And we couldn't have anyone worst to represent the country internationally simply because she herself doesn't consider herself Indian enough. In my opinion, it's only a matter of time before the west realizes that she is really talentless and the likes of her are found walking around Mumbai every day. As for Pinto, well to her I say, instead of taking acting classes, I suggest she read her interviews. If I were her, I'd be supremely embarrassed at the ignorance I portray. Yes, it is that witless. Drop the accent too babe; it ain't working for you. And the façade too if you can.
This video says it all...