Posted in
Today I would like to share a very quick and healthy appetizer with all of you. We all like to munch on vegetables with hummus but they way you present it makes all the difference. These roll ups make for great presentation and are super easy and quick and of course very healthy. Do give this a try and impress your guests.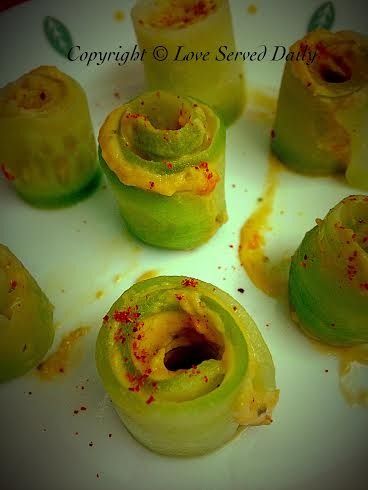 Cucumber & Hummus Roll Ups
The ingredients are pretty simple:
cucumber – 1, fresh, English cucumber preferred
Hummus – 2 tbsp., more or less, as per taste
Salt and pepper to taste
paprika – for garnish
Here is how to assemble this:
Sprinkle some paprika on top and serve immediately.
You can keep the peeled cucumber slices and hummus ready and roll them up just before serving as they tend to get soggy after some time.
Some other great filling options are guacamole, flavored Greek yogurt, hung curd or even some finely sliced carrots or bell pepper. Feel free to use your creativity and create new versions every time.
Peel thin slices of cucumber using a potato peeler. You can also keep them in ice cold water to maintain the crunch. Just pat them dry before assembling.
Take a slice of cucumber and generously spread some hummus on top with a butter knife. You can make your own hummus here or use store bought.
Season the hummus with some salt and pepper.
Finally roll the cucumber slice, making sure the filling does not ooze out.
Repeat similarly for all the slices.
….
So there you have it, one of the easiest and quickest appetizer. Do try it at your next get-together. Or just make one for yourself. Enjoy this healthy delight.
Thanks for stopping by. Hope to see you again soon.
---------------------------------------------------------------------------------------------------------------------------------
About the Column :They say - You are what you eat. I truly live by this quote. I am such a health freak. As much as I love to eat, I strongly believe in eating right. Making the right food choices is very important for a balanced lifestyle. I therefore make a sincere effort to eat healthy and nutritious food without compromising on taste. Through this column, I would like to share such recipes with you that provide you the nutrition, taste great and most of all you can enjoy them guilt free. Follow me here to make some easy and healthy dishes that you wouldn't feel guilty about when you take that second serving.
About the Author: Ritu Taneja Mehta is a Cost Accountant by education, Financial Analyst by profession and a Stay at Home Mom at the moment.
Here is what she says about herself - A few years ago I would have laughed at the prospect of writing a food blog. Expecting someone to guide you on a recipe whose own cooking experience before her marriage has been next to nil is quite unbelievable. A foodie husband and his love for socializing ensured I do get a lot of cooking practice. And when I finally decided to be a SAHM, it gave me an opportunity to enhance my culinary skills. A lot of it was inspired from a number of food blogs on Facebook and some very talented people I met there. I love to cook, especially a lot of healthy dishes. Join me in this culinary adventure where we talk about our favorite topic - Food.