Submitted by
Pinkz
on Thu, 07/21/2016 - 14:42
Posted in
Desi Twists on a regular Coffee Table
In this episode of "Home Sweet Home" let's lend some off beat sense of style to our coffee table. Injecting a little magic to a bare canvas sitting in the middle of the room confidently adds wondrous drama. A definite place to impress your guests, with your added touch of flair to spark a conversation.
Perfect bit of foundation for style and organizing on coffee table starts with a tray. Corral the clutter with a decorative tray. It tops up being an impeccable element in my upholstered ottoman. The tray can be easily removed for an essential extra seating in the room or to rest a foot at times when I slink away with my book.
Idea #1 : These dynamic tray duo takes endless rounds on my coffee table being the focal point in my family room with different avatars.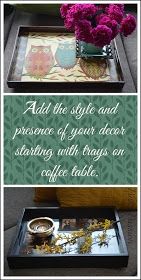 Idea#2 : Handcrafted effigy of metal Ganesha placed on flower got his way to our home being a return gift for a wedding in the family. Decked up tulips adds a stylish flourish and inviting drop on this vignette. Playing with the height boosts some extra interests with accent pieces.
Idea #3 : Be it spring or summer,it definitely makes itself known around my home. Books are added to heighten the balance on my favourite Buddha display. An infectiously serene look on weathered stone. Buddha was love at first sight and without me having to ask Aj, Buddha was packed and ready to come home ;)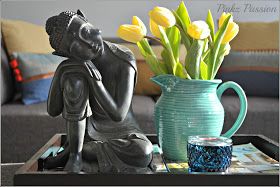 Idea #4 : Some gorgeous pieces of repeating silver set on my bandhani throw are the connecting elements in this traditional vignette! Could be a perfect fit for a winter oasis inspiration. Pure silver Ganesha was another great hunt of Aj. Along with Ganesha few other additional pieces of silver are studded on the marble top. When radiant rays of sun pay a visit the bling bling sterling snips away all the fatigue.
Idea#5 : A round tray could be a good bet to place minimal pieces. Three is a magic number to stage an object for a visual balance. Here traditional Ganesha gets hipper with modern blooms stolen from my daughter's room.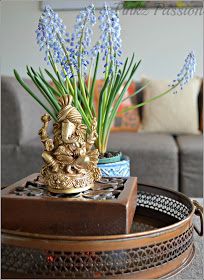 Idea #6 : Silver, brass and gold have a way of promptly elevating any space. Real blooms add an inviting touch on this traditional setting. I find flowers are complementing and easy to work with while creating any kind of look. To make an impact of collectibles, leave some extra room to rest your eyes. Table mat added that extra pop of the red colour on this setting
.
Working on these alluring settings did not cost me a fortune. I played safe by changing and rearranging things I have had for years to take on a fresh look. You may get lucky to find long forgotten treasures or décor pieces that will get you an exceptional look in your room.
I feel a welcoming vibe every time I enter my family room gussied up with beautiful coffee table arrangements; some sort of cozy feeling of belonging there. Impress your guests or soothe your soul by blending style and casual colour combos with some easy on eyes and interesting pieces on your coffee table. Do share your thoughts or creativities of designing your coffee table, I would love to hear it.
----------------------------------------------------------------------------------------------------------------------------------------------------
About the Author : Greetings from Toronto! I am Pinky, a gujju mom raising two teenagers, who also happens to be a complete neat freak and a Bollywood aficionado. Professionally, a business administrator who goes hand in hand running a business with her husband. A new schooler on the blog sphere belting out the saga about true labour of love, our home, which ignited the true passion of my creative soul. Passion is the key ingredient of my inspiration, revel with my décor and details to kindle utterly unique concepts right at pinkzpassion.blogspot.ca
About the column : Glad to join the band wagon and be a part of uber talented girls on B'khush. In my column 'Home Sweet Home" I'll be sharing tips, tricks and ideas to make your home Beautiful.