Posted in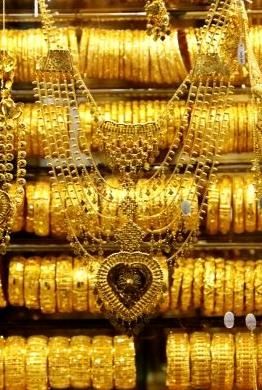 Gold, the yellow metal, has fscinated man everywhere and at all times. As a sign of immortality and wealth, gold is the material that myths and legends are made.
Gold is seen to be the reference point in mythology whenever the highest form of prayer, perfection or beauty is to be described. Every religion extols gold. In the Bible, there is a reference to a river flowing out of the Garden of Eden.
The Islam describes the fifthe heaven to be made of gold. The Buddha is often portrayed in gold and Buddhist ceremonial objects are made of gold.
Gold came to be used in weaving and in creating brocades. Kancheepuram and Varanasi are the main centres where gold weaving is done. Another art is zardozi in which gold thread is used in embroidery. It came to India with the Mughals.
Both men and women in India wear jewelry. In ancient India, there were several kingdoms where each kingdom flourished in a particular style way, the designs also existed in infinite varieties. The most common feature was the number of items worn by women. All of them used to wear jewelry on their nose, forehead, ankles and even on their toes.
Yellow gold is the most preferred metal for jewellery and is comparatively easy to work on. White gold is typically used with diamonds, since its white color harmonised with the stone. White gold is comparatively difficult to work on because of its hardness and brittle nature. Even red gold is often used with yellow for contrast effects. Green gold is used for antique jewelry.

Article Source : http://www.dakshcreations.com/2009/07/indian-gold-jewelry.html