Posted in
The Japanese Wife is a forthcoming Indian film directed by Aparna Sen. It stars Rahul Bose, Raima Sen and Moushumi Chatterjee, and Japanese actress Chigusa Takaku in the title role. The film was originally scheduled for release in October 2008,but the release was delayed until 9 April 2010.
The story revolves around a young village school teacher (Rahul Bose) marrying his Japanese pen friend (Chigusa Takaku) over letters and remaining true and loyal to her throughout his life, while actually never meeting her.
Snehmoy (Rahul Bose) and Miyage (Chigusa Takaku) are pen friends who exchange wedding vows through letters. Fifteen years pass but they never meet. Yet the bond of marriage is strong between them. This unusual relationship comes under a cloud when a young widow, Sandhya (Raima Sen), comes to stay with Snehmoy along with her eight-year-old son (Rudranil Ghosh). Snehmoy and the little boy bond and the arithmetic teacher discovers the joy of palpable bonds and fatherhood. There develops an inexplicable thread of understanding with Sandhya too.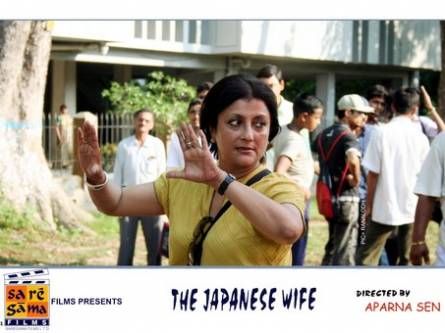 The production of the film started in April 2007.This is the first time Aparna Sen has made a film based on someone else's story. This movie is based on the title story of The Japanese Wife and Other Stories by Anglo-Indian author Kunal Basu, who writes from Oxford.This film was earlier titled as The Kite, but later changed to the name of the original story title.
The film was shot in Kolkata, Sundarbans and the Japanese cities of Yokohama and Tsukuba, Ibaraki.
The Cast:

Rahul Bose as Snehamoy Chatterjee

Raima Sen as Sandhya
Chigusa Takaku as Miyage
Moushumi Chatterjee as Maashi

Rudranil Ghosh as Fatik
Kunal Basu: Special appearance
Saregama have produced the film. They put up an Rs.15 lakh set a 150-feet distance away from the Eastern Bypass in Kolkata.
"The film is a love story. It does not have any message, nor does it contain a political agenda. Love, I believe, is the only way out of this moral and social decay the world is going through. Love, I think, is the only emotion that can bring back our respect for the values that are getting lost today. It is for my audience to decide whether it is a love story or whether there is a subtle agenda flowing like an undercurrent right through. In this age of Faxes and e-mails, people have stopped writing letters to each other. But it is such a moving emotional experience. I still feel it has the emotional touch e-mails and faxes can never have," says Sen about this film where a simple Maths teacher from a village in the Sundarbans falls in love with a Japanese girl he begins to correspond with.
Raima explains how gruelling her part of the workshop was because she had to gain some command over the Sundarbans accent, and had also to train in housework such as sweeping the floors, washing vessels, taking care of her child, etc. "But I learnt a lot at the end of the day and loved working under Rina Mashi's direction," she says.