Submitted by
Meheli
on Wed, 01/21/2009 - 14:00
Posted in
I'm a sucker for Aamir Khan. Have been since I was 13 years old and he waltzed in to forever colonize my heart wearing itty-bitty shorts and high-topped sneakers in QSQT (Mansoor Khan, 1988).
His private empire is very much alive and ticking in Chicago; he doesn't know this but that's his loss, I've told myself for almost two decades. To add to all this, I also adore tattoos. Put those together—a fabulously tattooed AK—and I swoon. That's what happened with Ghajini. I had heard very mixed reports of the film—euphoria from reviewers and disappointment from some colleagues—and approached it with considerable trepidation. But within the first 20 minutes or so I was genuinely hooked: as a lover of Hindi cinema, not just of the undeniably dreamy, impressively 6-packed AK.
Ghajini's kinship with Memento (Christopher Nolan, 2000) has already been much discussed and need not detain us here. What particularly struck me about the film is its ability to maintain its grip on the spectator until the very end. The pacing is perfect; the film simply never flags. It remains until the end a masala entertainer with all the Bollywood goodies we so love: romance, spectacular song sequences, loss, revenge, and a satisfying ending with the villain decisively vanquished by the hero. This is your basic melodramatic tussle between good versus evil, but executed with both style and seriousness.

Make no mistake, this is also an out and out AK show. The others—Kalpana (Asin), whose insouciant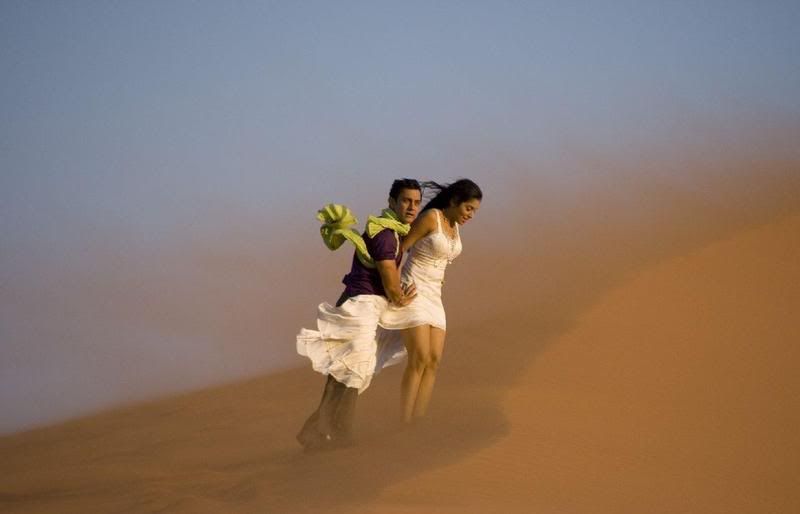 benevolence I found vaguely irritating, and Jiah Khan (Sunita) were, I suppose, competent, but really quite secondary to the show. Ghajini is all about Sanjay Singhania—anguished, angry and grimly committed to his bloody vendetta. AK is truly spectacular. Kudos to him for resuscitating an artifact of that almost obsolete type: the "all-India-film". In an online video-clip, I saw him articulate as much, which goes to show just how canny the man is.

Ghajini is a fairly violent film. But that's what a good masala film is; think back to the 70s and 80s and you'll know what I mean. The cinematography and editing are stylish. Also, a note on AK's fashion: while the bright, barely-there shirts with dupattas are fine—especially while crooning in the desert—the dress shirt with vest will revolutionize the sluggish universe of men's corporate fashion. Dressed up because the ensemble is most of a suit of course, but also dressed down with the sleeves rolled up. Funked. Mark my words and remember where you first heard this.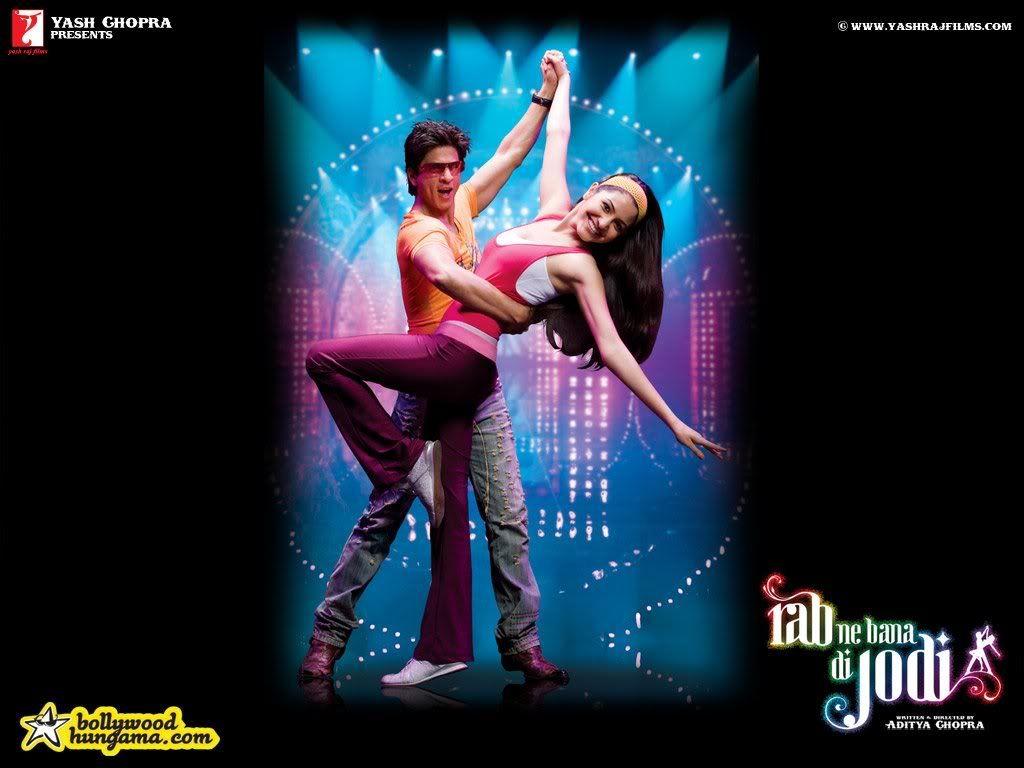 And what about that other Khan who so nattily filled out a black suit at the Golden Globes? After, I might add, boldly having tucked the tie inside the shirt! (You thought that was a scarf? Ascot? Well, pause the clip and be more observant!) SRK has come of age. And so has Aditya Chopra with Rab Ne Bana Di Jodi (2008). The film is not without flaws, but I'll get to those later. One chilly Chicago afternoon I cuddled on the couch with my best girlfriend and a large bowl of junk food to watch the film. It was a delight and I was charmed. Utterly so, and I'm not easy to charm.

First things first, there are Amritsar neighborhoods in Rab Ne. Real neighborhoods in a Yashraj-Aditya Chopra film with narrow streets, garish hoardings and grime!! And there are at least some real people with real faces—you will understand my thrill if you've seen Mohabbatein (2000) or even DDLJ (1995) really. The color palette is lovely: canary yellow dominates with some blue—Van Gogh surely cheered from his moldy resting place in Auvers. Suri Sahni (SRK) humble employee of Punjab Power bathes under an outdoor faucet every morning, before having toast with eggs and ketchup for breakfast. It's the attention to banal details like this—very astonishing for YRF—that makes Rab Ne endearing.

You know the story, so I won't rehash it here. SRK fully takes advantage of the doppelganger theme. Halfway through Suri morphs into 'Raj'—the yuppie dude prototype from countless earlier films; SRK plays himself with lots of hair product, loads of gab and the tightest denim on this side of the Himalayas. All this along with killer dance moves to woo his reluctant bride Taani (Anushka Sharma), who desires a more desirable man. But it's as the dweeb extraordinaire Surinder that SRK really shines: every awkward gesture, every hesitant gaze, every longing overture tugs at your heartstrings. Suri is, simply put, so incompetent that he is every one of us—inadequate and terrified to be a disappointment in love.

It takes a star very secure in his masculinity to play Suri Sahni. And perhaps SRK can confidently put on the dweeb mantle precisely because he is as spectacularly successful as he is. Either way, after Om Shanti Om (2007), Rab Ne continues a welcome queering of the Bollywood hero.

The film, as mentioned above, has its flaws, and I don't want to overlook these in my giddy appreciation of new images of maleness in Hindi cinema. The film is too long—the plot sags like my tired old futon in the middle. Raj's exploits are too many and too repetitive. More Suri and fewer Rajs would've been lovely, but that may be just me. The music is mediocre at best. Anushka Sharma is fine, but she did not knock my socks off. Apart from these—in my view minor problems—Rab Ne remains delightful.