Posted in
Life 101 - "Alcohol : Let's Clean Up"
How many of us own at-least one pair of shoes that we simply LOVE.. and then how do you feel when they get stained and they no longer are fit to walk around in in public? or your kids have white/light colored shoes and they turn brown faster than you can say the word. I had one such problem.. the white satin pair of shoes that I loved started looking dirty and not-so-white anymore. I had worn these for a wedding in the family and soon after all that running and dancing; they didn't look as pretty and delicate anymore. And the fabric being satin, there was no easy way to get the dirty stains off without ruining the pair. It was then that I used this shoe-saving trick and gave my satin shoes a second life. Alcohol. Yes, although I support the thought that alcohol is not always the answer; but in this case it is!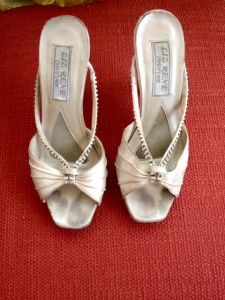 The trick to clean satin, suede or fabric is to first brush off the trapped dust from the shoes, then take a cotton ball, and some alcohol.. this can be of any kind that is free of any color..(don't attempt this with wine or scotch or dark rum) I used plain vodka as I had that lying around in my house. Then dab the stain or the shoes with this alcohol dipped cotton ball and let it dry out in the sun. There is no scrubbing required in this case. The alcohol will evaporate and with it the dirty stains. It works like magic.
If the stain is too harsh then I have also tried dabbing the stain first with talcum powder, then after a few hours, rinse it with water and follow that with the alcohol treatment. I couldn't believe my eyes when I saw the shoes sitting outside my door actually looked white again. Not the creme, off-white shoes with dirt stains on it as I had first kept them.
The shoes you see in the picture are proof. The horizontal thick white band which has pleats in the front was as dirty as the base you see where my foot rests.. also the thin base of material on which the crystals you see attached, was filthy and dirty. I dabbed these two areas with a cotton ball dipped in vodka and left it out in the sun to dry up. 20 mins later these are white! such a difference between the base and the top.. I am going to dab the base too, then this pair will be bright white, just the way I like it.
I used this treatment on a small section of my sandals first and as amazed as I was upon seeing the results, I am now sitting with the whole shoe in front of me and I intend on treating it all around to give it a fresh new look.
This treatment works on SUEDE, SATIN and FABRIC shoes/sandals. I usually have to deal with oil stains, water stains and dust stains on my light colored shoes and now I know how to tackle them.. and so do you now. So let your shoes drink up :)
------------------------------------------------------------------------------------------------------------------------------------
About the author : Shweta Punjabi Achhpiliya is a paralegal and in the past, has been a psychological counselor, newspapers columnist, alternative therapy believer and practitioner, vaastu consultant, tarot reader and a tv hostess.
Link to Shweta's blog : http://girlinpardes.wordpress.com/
About the column : Life 101: Tips and Tricks To A Better Life is a space where I will share my experiences and the lessons I have learnt over time. I believe we all lead unique lives and all of us have a story to tell. Mine is about sharing the life hacks I have picked up along the way. Be it treating your own health at home or balancing the positive-negative vibes in the home/office, this column will see some good health tips and vaastu/feng shui tricks that will help improve the quality of life.