Submitted by
B-Khush
on Tue, 04/22/2014 - 14:22
Posted in
B'Khush introduces a new column by Parama Ghosh. This column will include some random happy things jotted down by Parama. Ranging from DIY ideas, home decor ideas, fashion and food. In short, this column will make you smile for sure.
About Parama : "I am a lawyer by profession and work with one of the oldest and renowned law firms in India. In the midst of mergers, acquisitions, joint ventures, real estate and other things, life may seem a little black and white with a tinge of grey here and there. But I make up for it by adding colours of my own. My mother had put me in an art class when I was two and a half, much before I went to a proper school. I learnt colours before I learnt alphabets, body parts, fruits or vegetables. Candies, crayons, rainbows, abir, plastic pegs to hold wet clothes, Ma's sarees, glass bangles….endlessly fascinated me while I grew up. I am a trained painter. Random things become my canvas......paper, sarees, tshirts, pots, empty walls and doors. Irrespective of the medium and surface, I love to paint.
I write and feel happy about it. Of the things I love writing about, Kolkata enjoys an unfaltering bias.
When I say I cannot distinguish between the city and breathing, I mean it more than anything else.
I love making things out of recycling. A staunch DIY-er. Old lampshades often become flower vases and old whiskey bottles lampshades, coconut shells and hajmi-bottles becomes candles, sarees become curtains and stirrers jura pins. My home is my fun-studio where homemade, recycled accessories take the lion's share of home decor. I love doing up my house and treat my home as one of the family members.
I feel, like music, food and love keeps us alive. A vehement foodie and a die-hard romantic, I am. Believer of : God couldn't be everywhere, so he created Biriyani.
I design jewelry as a part of my hobby. Turning day to day objects into a piece of jewelry is something that gives me endless joy.
I sing. I am not a singer whom you call excellent or flawless. But I feel, if Nirvana can be achieved, it would be through Rabindrasangeet.
I love to travel. Almost everywhere. The Kumayun fascinates me as much as Kumartuli. It's not about the place, but about the joy of exploring. Someday I wish to write a travel – book. And I will."
----------------------------------------------------------------------------------
Parama kickstarts her column with some fantastic ideas to brighten up your ordinary sarees.
Love imprinted....
Statutory warning: I am no fashion expert. While 'fashion' and I are just about cordial to each other when we meet. 'Style' is something I would call a friend. The friendship is something like that of Calvin and Hobbes's. While the whole world can perceive Hobbes in his inanimate existence, only Calvin breathes life into him and makes him a 'friend for life'.
Style is something like Hobbes. Everyone can see it, while you are the only one who shares that special bond which no one else can gauge, copy or share. While Fashion is fair-weather friend, Style is your soul mate.
Generally best friends are alike. Hence one's style tends to be a mirror-image of one's personality. Someone had hence, very rightly pointed out to me that the one word that best describes my style is "madness". I don't disagree. But for the sake of this post and to make it look a little impressive, I would like to garnish plain madness with words like Boho, Desi, eclectic, colourful and happy.
At the very outset, let me tell you that I am a die-hard saree fan. More than an attire, I feel it is a way of life. It does to your personality,what Rahul Dev Burman did to Gulzar's lyrics. Priceless-ness!
In this post, my endeavour is to bring to daylight some easy, non-expensive, quirky ideas to brighten up an otherwise ordinary six yard. And the highlight of such ideas would be printed fabrics.
Animal prints:
I love animals....in a zoo, at home, on walls and fences and Animal Planet. The love often finds its expression on the fabrics I use for stitching my blouses. A friend got me a Pochampally saree, a traditional weave from Nalgonda district, Andhra Pradesh. Unlike its ikat silk brethren, mine is a cotton variety. A grey canvas with orange and black zigzag lines, it is a thing of beauty. To add a splash of colour, I chose this green raw silk blouse. On the grass-surface, a bunch of monkeys can be spotted in their playfulness. A collared jacket-style fit, the blouse stands as a breakaway from the monotony of grey and black. I also found the hanuman-print (pardon the blasphemous name) very traditional, yet quirky. To put the cherry on the top, I found accessories to go with it!
I love fish. Be it in the pond, aquarium or on my lunch plate, I love them in all their manifestations. Oh, and they also find their ways into my fabrics. This fish print blouse is blended with traditional Bagh print which is an indigenous hand-block printing craft of Madhya Pradesh. The black and white blouse makes a statement piece with a very modest red Bengal-cotton (Tant) saree, about which I shall enlighten you in a subsequent paragraph.
Face value :
Yes, face prints on fabrics take my heart away. In real life, I am intrigued by faces. This habit of real world 'people-watching' extends to the reel-world as well. If Bollywood is the greatest religion, Guru Dutt and Waheeda Rehman are definitely idols we worship. The Pyaasa-print material I used for the blouse is a proud tribute of a devout fan. The full sleeves are bordered with intricate laces to give them a more retro-character. The Kerala cotton saree (traditionally called Kasavu) is the most modest variety of the same costing me mere 400 rupees. The white body is punctuated with the Dutt-Rehman print, giving it a total filmy make over.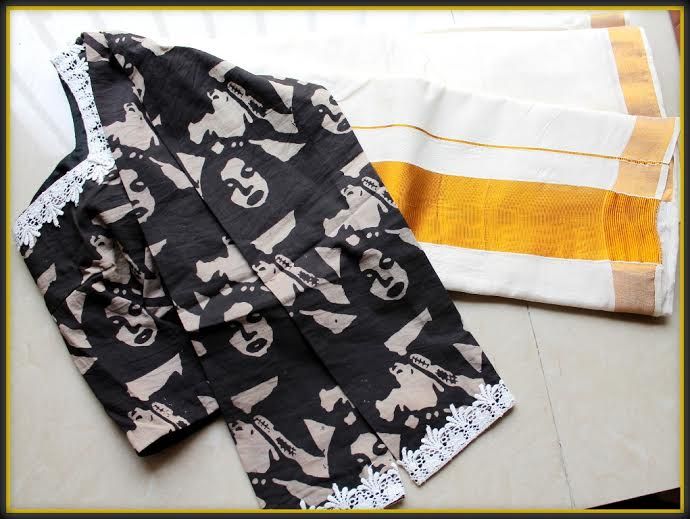 The same red cotton saree I spoke about in one of the preceding paragraphs is a very simple Bengal Tant having a plain body with a thin gold border, being the only thing to boast. A 350-Rupees saree, I wore it for last year's Sindoor-khela during Durga Puja with a "Moochein ho to Nathulal ji jaise" blouse. Yes, the fabric borrowed its name from the famous lyrics from Sharabi. Both the Nathulal-moustache and the Pyasa prints are outcome of printing by using seeds, bark, flowers, minerals, wheat, clay, lime, tamarind, tree gums. These fabrics are printed by the Chippa community, Rajasthan.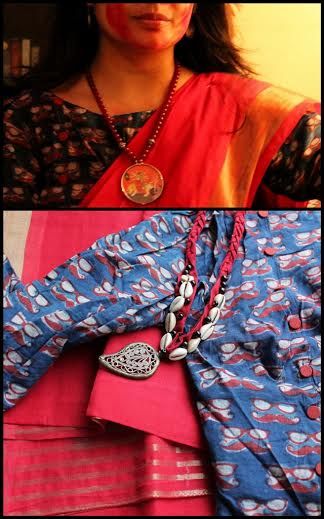 The essence of my city:
I claim that I am more married to Kolkata than my husband himself. I mean it. These fabrics caught my attention by the sheer presence of my city's essence on them. The hand-pulled ricksaw on the pleats and the blouse makes a delightful combo. (So does the ricksaw pendant in silver that I picked up from my favourite silver shop years back).
Digital prints:
Personally I am not a digital-print person. However when you see Madhubani, Tanjore painting and Orissa patachitra printed digitally on fabric, you surely drool. I did. And here it is. A multi-hued blouse to go with the same white Kerala cotton.
Words are all I have:
Printed words fascinate me like no other. Be it books and newspapers or fabrics. My mother had an old Gorod saree (a traditional Bengal silk) which she refused to wear on account of the 'aunty-ness' it imparted. The daughter executed a makeover by stitching a Benarasi border to it. To go with the finished product, a Shlok-print fabric was made into a blouse. Bengalis generally wear Gorod sarees for Puja purposes. So, Geeta-shloks imprint goes hand in hand, what say?
Flower-power:
A very basic Khaadi tussar was given some bling-indulgence. An ornate border and a flower print blouse was made a part of the attire. A flat, solid pink blouse was replaced by the rose prints and the traditional look of the tussar was broken thereby. I loved the finished product. Did you?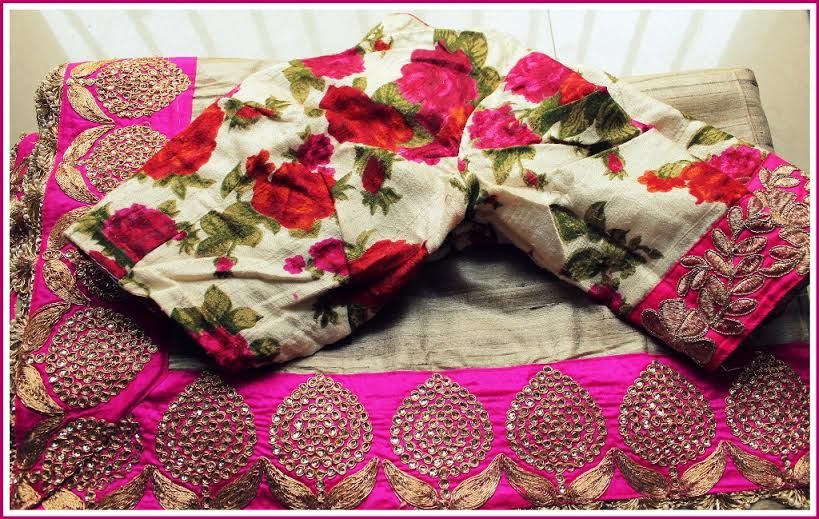 Irresistible printing:
Of all the prints I love, resist printing tops the list. Resist printing is a method of colouring cloth in a pattern by pre-treating designed areas to resist penetration by the dye. Batik is one such technique, where wax is used as a resist for dyeing the fabric. Being a Bengali and considering the fact that Shantiniketan is a second home, my wardrobe has an overdose of Batik fabrics. Shantiniketan-batik was for a long time the very traditional, ornamental alpana-motifs. The slightly different version of Batik was Jose Antonio Zalba's version of batik. Based in Shantiniketan, Jose has introduced quirky motifs on Batik. Pelicans, crows, hibiscus or these simple leaves on Batik found a place in my heart and my wardrobe.
The Ambassador car-print on Batik was initially a stole which I converted into a blouse. It is also from a handicrafts mela at Bolpur, West Bengal.
It is time to wrap my never-ending list of printed fabric I have used to give apparently ordinary sarees a facelift and a mood-lift. My idea was somewhat accomplished. Try some for your own.
Break rules. Team up your traditional Gadowal with a floral print blouse or a handloom cotton with a newspaper print. Go, create your own statement! And don't forget to put the most important accessory, a big, happy smile. My spiritual Guru had said, "Happy girls are the prettiest girls".
Remember, that's the ultimate truth.