Posted in
Amar Chitra Kantha....
It was a 'cumulonimbus' afternoon. The sky was dressed in 50 shades of grey which offered a perfect setting for a steaming cup of tea, a good book and a lazy mind being put in a rocking-chair mode. It was one of those idle moments which gifts you the time to notice the ants' adventures, interpret the song of the sparrows, count the seeds of a lone slice of a cucumber, play book-cricket, hum a long forgotten song and most importantly, daydream. And I dreamt....of the abode of peace. Shantiniketan. Am I to be blamed? The alpona-pattern on my terracotta platter, the Batik painted rendition of Tagore's "Shahoj Pathh" and the Kantha bedspread reeked of Bolpur.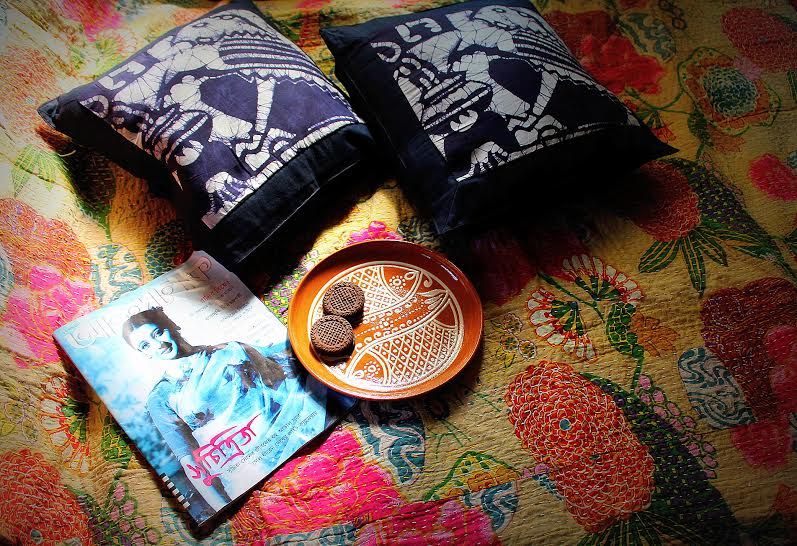 Lone moments also instigate the eternal "curious cat" in you. Mindless staring at the Batik and Kantha fabric gave birth to enormous interest towards both. I started reading about them..... their foetus-moments, toddler days, teenage and how both of them blossomed into gorgeous beauties. I realised that, there are so many facets about our indigenous art forms which we are blissfully oblivious of. I decided to read and write about them. This is my first step towards that direction. It is about stories written on textiles with needles and threads.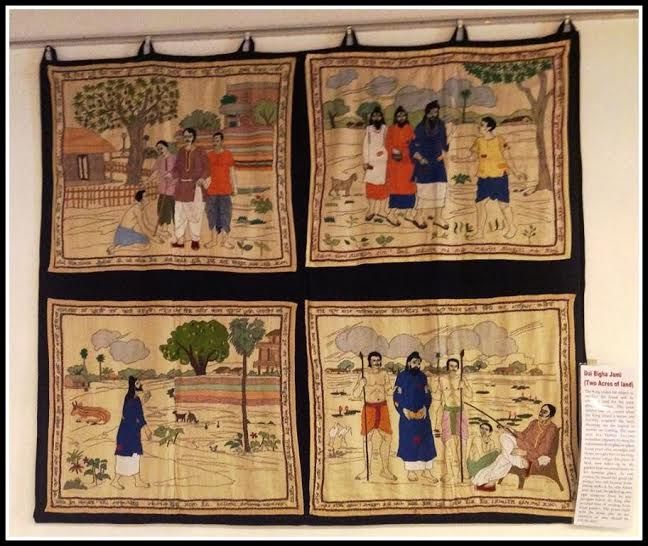 (Rabindranath Tagore's Dui Bigha Jomi on Kantha from an exhibition at Kala Bhavan, Shantiniketan)
Born in a Bengali household, my earliest encounter with this form of art was from the moment I breathed my first. Grand mom's old worn-out sarees were stitched in two or more layers and conjoined by "run stitch" running all over them. They were homemade substitutes for diapers and oil-cloths. Very interestingly, the piece of cloth and the embroidery on it are both called "Kantha" in Bengal. Some of them had embroidered patterns depicting flowers, huts, trees, sun, birds and mountains. When I say 'patterns', I must also mention that, not all of them had perfect representations of such objects. Flowers looked like poached eggs, birds were broad "Vs", mountains plain triangles and trees were mostly 'coconut' with "X" shaped head and a straight line bottom. The 'creative' ones had nursery rhymes, comic characters and fairy tales etched in needle work. One specialty of those Kanthas was, each figure was outlined by blue thread. The smell of baby pee, baby poop, baby powder mixed with grand ma's love was....... happiness. : )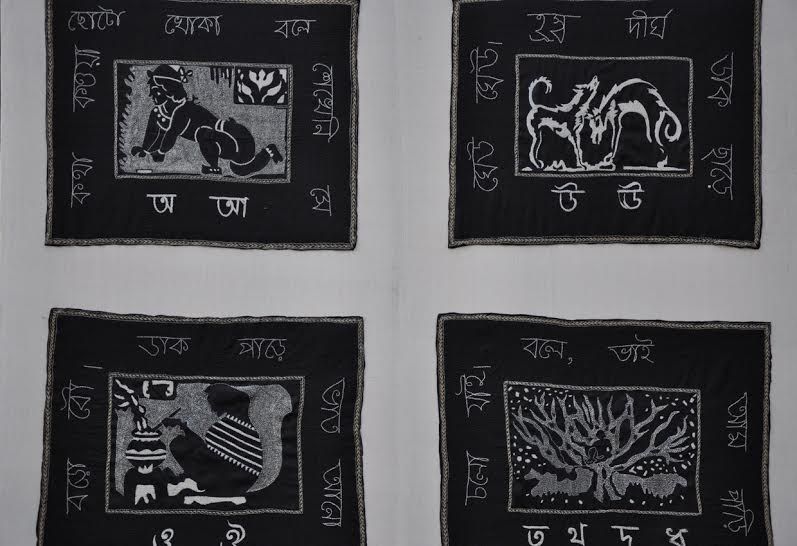 • Her-story~
The history of needle art in India can be traced back to almost 3,000 B.C. It is in fact, considered to be the oldest of art forms prevalent in India. From the archaeological excavations at Mohenjodaro and Harappa to those at Behrut and Sanchi, it transpired that embroidery was prevalent even in those days. According to popular belief, Kantha, as an art form owes its origin to Bengal. The ancient capital of Bengal, namely Saptagram or Satgaon was one of the forerunners in popularising Kantha embroidery.
In their writings, John Irwin and Margaret Hall (Indian Embroideries, 1973) mentioned Satgaon and Hoogly as the two principal places where Kantha quilts were made. Popularly known as 'Satgaon Lep' they attracted the attention of the Portuguese traders who started exporting the quilts to Europe. The embroidered patterns on these quilts were a unique blend of Indo-European motifs. Hunting scenes, ships and underwater scenes, fishes, mermaids and stories from the Old Testament were very common. These designs were essentially Greco-Roman in origin but were Indianised in their implementation. John Irwin points out, "The pictorial presentation of recurring scenes with a ship manned by Portuguese sailors, surrounded by fishes and various marine monsters, are clearly derived from conventional Vaishnava representations of the Great Flood in which Vishnu, in his Matysa or fish incarnation is depicted guiding Man's Ark." (John Irwin, Indo-Portuguese Embroideries of Bengal).
With its departure from the early to the late 16th century the patterns underwent a radical change from Brahmanical art to Vaishanava cult. The imageries on Terracotta temples of Bengal found their reflections in embroidered art. Figured compositions with self contained narratives became predominant in this Bengal folk art form.
In general, everyday objects find their expression in Kantha embroidery. From ornate alpona patterns to birds, animals, trees, flowers (with predominance of lotus), Gods and Goddesses, Kantha unfolds the stories of women folk of rural Bengal. In the words of Stella Kamrisch, "......be it of a ritual or in restoring wholeness to rags; by joining the torn bits and tatters and by reinforcing them with a design of such a kind that when a kantha is spread out, it unfolds the meaning on which life is embroidered." - Kantha, Journal of Indian Society of Oriental Arts.
This reminds me of the famous poem "Nakshi Kanthar Maath" by Jasimuddin. Did you know that Katha began to be known as 'Nakshi Kantha' after this poem?
(Nakshi/ Naksha – embroidered designs)
• Etymology and et cetera~
The term "Kawntha" in Sanskrit and "Kantha"in Bengali means old pieces of cloth, stitched in layers, for the purpose of clothing and/or bedding. The outer layers of such quilts are filled with embroidered images. While reading about the origin of Kantha, these words caught my attention. It read that the universe is a "woven fabric where everything and every human have a place at the meeting point of the warp and weft." These words beautifully sum up the essence of Kantha.
Kantha is predominantly a rural art form. Women in rural Bengal, recycles worn out, tattered sarees and dhotis. They pull out coloured threads from the borders of their sarees and with the help of those, laminate old clothes by 'running' stitches all over them. While making a Kantha, the four sides are pinned to the ground with the help of thorns of date palm trees so that the surface is free from wrinkles. Once the quilt is made, motifs are drawn with the help of charcoal and the four corners are released. Various patterns are then embroidered on the topmost layer.
Traditional kantha embroidery has various kinds of stitches. Run stitch, double run stitch, Tercha, Kuchi, Bhorat, Cross, Gnat, Pyaanch, Dal, Chain, Nishshoron, Rong and Dorokhha are some of them. Amongst these, the Dorokhha stitch has a particular significance. The specialty of this stitch is that the embroidery looks identical from both sides...the front and the back.
In terms of patterns, there is a marked difference between the Hindus and the Muslims. While the motifs used by Hindus predominantly comprise of a lotus in the middle with trees on its four sides (punctuated with animals, flowers, fishes, boats, huts etc.), the Muslims generally depict the sun, moon and stars on Kantha instead of day to day objects.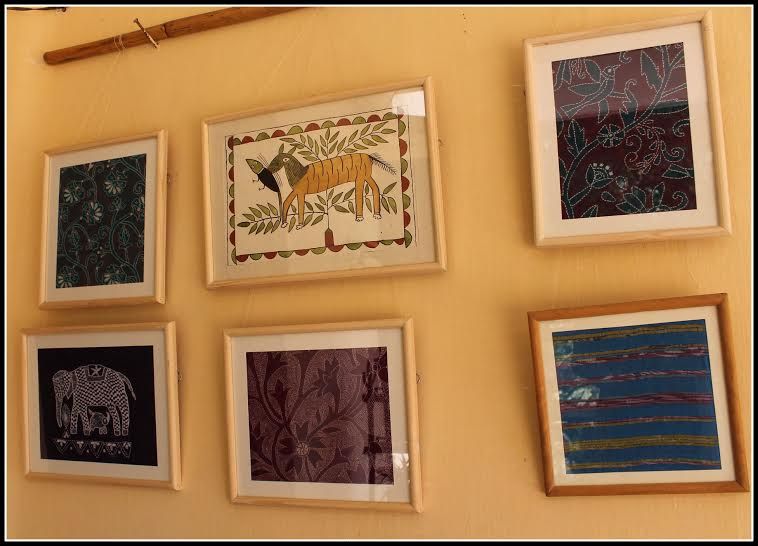 In accordance with their varied uses, Kantha can be grouped into eight kinds:-
1. Suzni Kantha – 6' X 3 1⁄2' - Used as a bedspread.
2. Lep Kantha – 61⁄4' X 4 1⁄2' - Used as a blanket, thick quilt.
3. Bayton Katha – 3' X 3' – Used by children; used as cover for valuable items, as a table cloth.
4. Durjani Kantha – 10" X 6" – Used as a wallet or a pouch.
5. Arshilota Kantha – 6" x 12" – Used for keeping mirrors and combs.
6. Owar Katha – 2' X 1 1⁄2' – Used as a pillow cover.
7. Rumal Kantha – 12" X 12" – Used as a handkerchief.
8. Jot Katha - 3' X 4" – For packing objects.
(Source: Loksanskriti Kosh)
• Present please~
At present, the art is preserved in all its essence by the rural folk of Birbhum, Bardhaman, Murshidabad and North 24 parganas. Under the patronage of Rabindranath Tagore, Kantha had flourished as one of the foremost art forms of West Bengal. Shantiniketan and its surrounding villages are pioneers in such endeavour.
Presently, there are various enthusiasts who are aiming at the revival of this art form and play a pivotal role in developing and improving the same. Some of them are: Smt. Sreelata Sarkar, Smt. Jamuna Sen (Karusangha), Smt. Rubi Pal Chowdhury, Smt. Nilanjana Ghosh and Ms. Shamlu Dudeja, She Foundation (I have visited her studio and attended her various exhibitions. The images below are She Foundation's creations.)
In Bangladesh, Rajshahi, Jessore and Mymensingh have their distinct Kantha forms. In addition, a number of NGOs are vigorously acting towards the preservation and revival of Kantha. Kumudini Welfare Trust, Aranya, Karika and Arshi are some of them.
Recently, I had visited the Indian Musuem on the occasion of its 200th anniversary celebrations and I found some exquisite Kantha work there. (The fourth and fifth images were clicked during such visit). The Calico Museum of Textiles (Ahmedabad), Ashutosh Museum (Kolkata), Bangla Academy (Bangladesh), Bangladesh National Museum, National Museum of Scotland, Victoria and Albert Musuem (United Kingdom), Philadelphia Museum of Art (U.S.A) and the Textiles Museum, Washington D.C. have some of the major displays of Kantha. Go have a look!
While you explore this art in its various manifestations, let me put my mind back on its easy chair. And, till we meet again, wish you loads of immortal fairy tales......Amar Chirta Katha.
------------------------------------------------------------------------------------------
"Love Imprinted" this column will include some random happy things jotted down by Parama. Ranging from DIY ideas, home decor ideas, fashion and food. In short, this column will make you smile for sure.
About Parama : "I am a lawyer by profession and work with one of the oldest and renowned law firms in India. In the midst of mergers, acquisitions, joint ventures, real estate and other things, life may seem a little black and white with a tinge of grey here and there. But I make up for it by adding colours of my own. I am a trained painter. I write and feel happy about it. Of the things I love writing about, Kolkata enjoys an unfaltering bias. I love making things out of recycling. A staunch DIY-er. Old lampshades often become flower vases and old whiskey bottles lampshades, coconut shells and hajmi-bottles becomes candles, sarees become curtains and stirrers jura pins.I feel, like music, food and love keep us alive. A vehement foodie and a die-hard romantic, I am. .I design jewelry as a part of my hobby. Turning day to day objects into a piece of jewelry is something that gives me endless joy.I sing. I am not a singer whom you call excellent or flawless. But I feel, if Nirvana can be achieved, it would be through Rabindrasangeet. I love to travel. Almost everywhere. The Kumayun fascinates me as much as Kumartuli. It's not about the place, but about the joy of exploring. Someday I wish to write a travel – book. And I will."