Posted in
Fabric-ated dreams .....
While growing up in an Indian family, or to be precise, a Bengali household, we emerge as champions of recycling. I account our inherent character of assigning anything (and everything) multiple uses to our Desi blood. One swing of the magic wand and you witness countless 'Cindrella's-pumpkin-turned-carriage' moments. Sundae boxes turn into lunch boxes, tattered T-shirts transform into dusters while unusable CDs become coasters. Plastic packets are hoarded under mattresses for multiple recycling while old toothbrushes are reused for cleaning combs and washbasins.
When I travel in one particular Airline, I religiously buy oatmeal cookie boxes and bring them home to hoard my earrings, rings and safety pins. They are also excellent for storing biscuits, sugar, milk powder etc. (completely air-tight; tried and tested). While travelling, the same cookie tin can turn a 'God of small things'….band-aids, keys, hair clips, shampoo sachets, lip balm fit in perfectly.
From restaurants, instead of those extra toothpicks, I pick up stirrers once in a while. Stirrers make excellent Jura-pins. So do pencils.
And then, those white plastic boxes that come from take-away and restaurants! We don't throw a single of them. On birthdays and anniversaries we send 'extra' food to relatives in those plastic boxes once the party is over. A new recipe tried gets sent to the next door neighbour in the same dabba. So, you see, parting away with your priceless stainless steel Tiffin-carriers (with the anticipation that it would never come back) has vanished phenomenally with the advent of these containers. Oh, we often use them to store fish and chicken in deep freezers, as well. Bengalis, I tell you!
It would be a heinous crime, if I don't mention one particular thing here. "Recycled gifts". There are certain obnoxiously printed bed covers, cups and saucers, pearl sets and sarees which are gifted at your wedding for the noble cause of recycling and hence you do the honours without feeling guilty (like the ones who gifted the same to you).
I'm done with the character-assassination part. Now let me show you a photograph. It was taken years back at Shonibarer Haat (weekly local market) during one of my countless visits to Shantiniketan. An array of patchwork costumes of the Baul community of West Bengal caught my unfettered attention. So did Khesh sarees.
These sarees are woven through a unique technique by using thin strips torn from old sarees. The warp is the new thread and the weft is the thin strip. Birbhum district of West Bengal is the pioneer of this weave.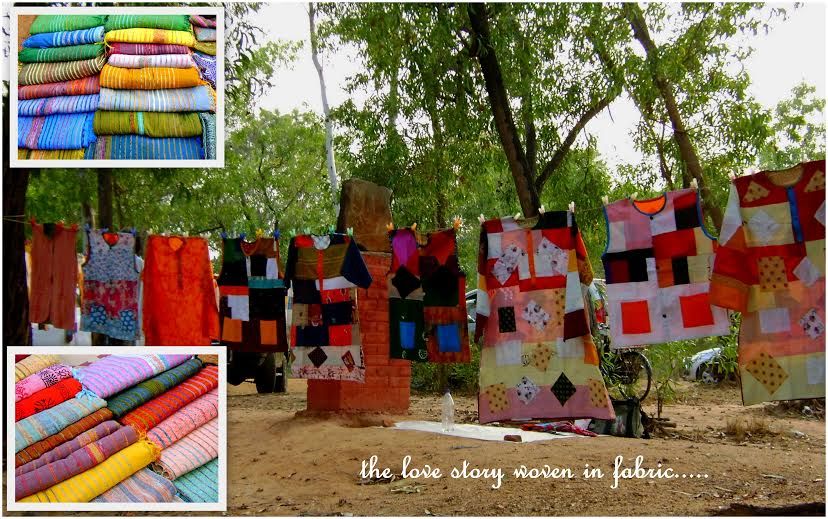 Random, left over fabrics assembled themselves into colourful fairy tales. Intrigued and fascinated, I got drawn to recycled fabric love.
***********************
Home is where the craft lies ~I decided to translate the inspiration into practicality. I made 'fraandships' with the tailor. In order to get your work done, this is THE ONLY way, given the fact that between seeking a good tailor and seeking God, the former is way more difficult. I asked him to keep aside left over fabric from the dresses he makes for me, handed over instructions and asked him to stitch patch works. Remnants from kurtas, blouses and skirts joined hands.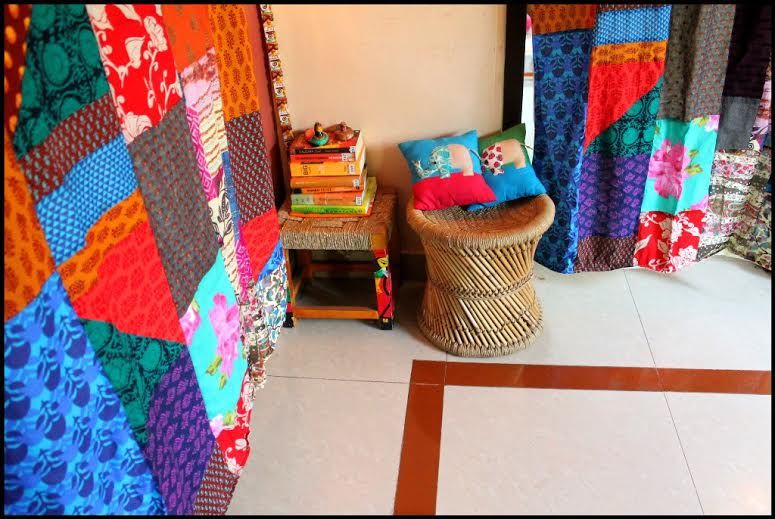 And.....the end result was fascinating. Every time I set my eyes on them, the Baul soul in me, strikes a chord in his Ektara.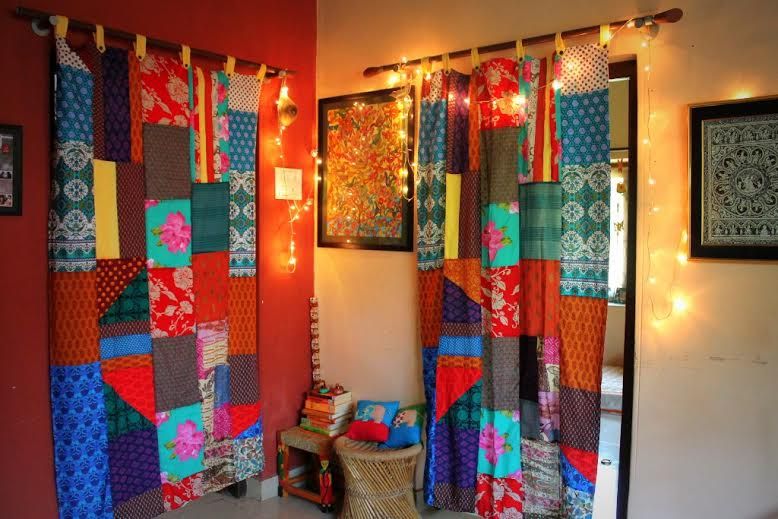 The same tailor has diligently for the past 4-5 years handed over extra fabric while delivering the finished products to me. Some beer bottles were lying naked in the bin (courtesy: terrible hangover they had from the last night). I picked them up, wrapped strips of clothes around their body, dressed them up in Bagru, Kalamkari, Ajrak patchwork (ditto their owner) and placed them on my window sill. Indoor plants made head gears and my lovelies now bask in sunshine.
Larger pieces of clothes are utilised too. An old lampshade I outgrew my love for, was given a makeover. Once given a face lift, she demanded flowers for her hair. The owner obliged. The lampshade was made into a flower vase. : )
PS: The table cloth below the lampshade (in the picture above) got burnt in a few places due to bouts of my callousness. The thought of discarding the same inflicted multiple heart breaks. I called my tailor and he transformed the table cover into a Kurta. Please note the piping he used on the neck. It is the same fabric used on the lampshade turned flower vase. :D
I am a Shylock when it comes to fabric. Left over material from blouse pieces are hoarded in my crafts-corner. I used some for fabric-ating memories. Old desk calendars were rescued, the spiral binding was removed, a window was carved out on one side, the frame was covered with fabric and the ends of the two flaps were glued back. My photo frame was ready. I garnished them with memories.
Desk-pickable me ~I am in love with desk accessories. Handmade notebooks, wooden pencils, fancy pen-stands fascinate me to no ends. While my writing quotients can suffer perpetually from Bear Market economy, the embellishments-quotient is always at their phenomenal highs. I keep picking up stationery and desk accessories. And let me shamelessly flaunt some of them. The clipboard, note book, tissue box and the spectacle case are examples of spontaneous use of printed fabric. Each one of them is handmade and is made out of tie-dyed, vegetable-dyed, woven, printed or painted fabric. Such beautiful examples of the richness of Indian textile tradition!
While the remaining items need skilled hands, fabric covered notebooks are not that difficult to make. They can be made at home. Brown paper jackets can be replaced with fabric ones. If you have spare fabric at home, make good use of them pronto!
Another fascinating use of fabric was found in a quaint little store in Shantiniketan. Spare fabric made into paper weights and fridge magnets. Adorable, aren't they?
Fabric ornaments ~
Flaunting my junk jewellery is as baseless as flaunting the inked index finger during elections. But, being the reckless show-off that I am, I can't refrain nevertheless. And fabric ornaments claim a lion's share of my loyalty. I found some amazing fabric ornaments from my last trip to Pondicherry. Strips of clothes rolled in circles and made into pendants and danglers. An instant idea hatched in my mind when I saw these! I made larger circles in the same fashion and made coasters.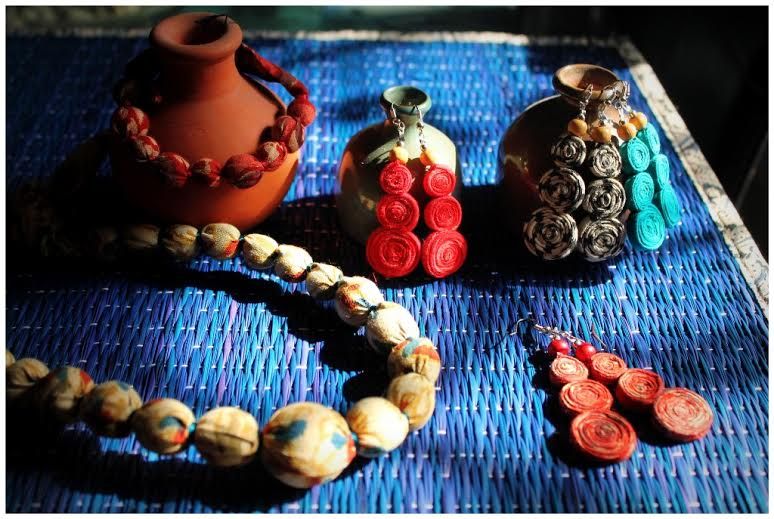 Rudraksh beads of diminishing sizes cocooned in Kalamkari fabric is a stunner of a neckpiece. They can be made at home too.
So can the bangles in my Churi-stand. Wooden bangles enwrapped with shreds of fabric, DIY-ed on a lazy afternoon. All you need is a bottle of fabric glue and bits and pieces of clothes. I had also made Christmas wreath-ornaments in a similar way! The multi-faceted use of fabric can be endless....like Ekta Kapoor's K-series soaps.
But for today, I will spare my lazy fingers. The series will continue in pieces and parcels. So here comes my parting note to you: These stunts are mostly performed by untrained professionals; do try them at home.
Happy fabricating!
---------------------------------------------------------------------------------------
"Love Imprinted" this column will include some random happy things jotted down by Parama. Ranging from DIY ideas, home decor ideas, fashion and food. In short, this column will make you smile for sure.
About Parama : "I am a lawyer by profession and work with one of the oldest and renowned law firms in India. In the midst of mergers, acquisitions, joint ventures, real estate and other things, life may seem a little black and white with a tinge of grey here and there. But I make up for it by adding colours of my own. I am a trained painter. I write and feel happy about it. Of the things I love writing about, Kolkata enjoys an unfaltering bias. I love making things out of recycling. A staunch DIY-er. Old lampshades often become flower vases and old whiskey bottles lampshades, coconut shells and hajmi-bottles becomes candles, sarees become curtains and stirrers jura pins. I feel, like music, food and love keep us alive. A vehement foodie and a die-hard romantic, I am. .I design jewelry as a part of my hobby. Turning day to day objects into a piece of jewelry is something that gives me endless joy.I sing. I am not a singer whom you call excellent or flawless. But I feel, if Nirvana can be achieved, it would be through Rabindrasangeet. I love to travel. Almost everywhere. The Kumayun fascinates me as much as Kumartuli. It's not about the place, but about the joy of exploring. Someday I wish to write a travel – book. And I will."