Posted in
Durga Puja is just one and a half months away. An over crowded Gariahat, the traffic jam and 'parking problem' around New Market, the constant threats flowing from your tailor, "er pore banate diley ar ditey parbo na" (if you don't give your material now, you are not going to get anything before the pujos), the huge SALE posters cladding the city, making lists of your relatives, friends, maids and the clothes that you are going to buy for each (with an additional column for the budget), the array of offers at the beauty parlours and gyms promising the desired look before the Puja.....the list is endless.
A very important part of this endless list is the new clothes that one buys for the house. Our homes get new pillow covers, cushion covers, bed spread, curtains and table mats. As a child, I have seen my mother buying new set of clothes for our pillows and cushions almost every Pujo. That was compulsory. I follow the tradition. I also change the accessories. Photo frames are rearranged, lamps are repositioned, flower pots and plants are replaced and added.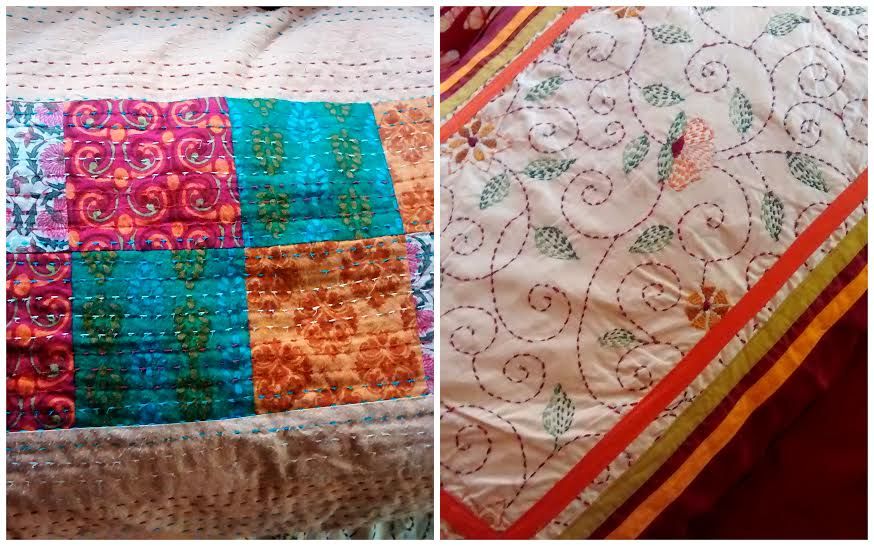 In this post, I shall share some décor ideas for the upcoming festive season. Each one of them is very 'desi' keeping in view the 'Bongness' quotient of the festival.
A hand-painted Khadi silk lamp can brighten up any gloomy corner. The painting is Kalighat patachitra, an indigenous art form of Bengal. You can either paint a solid coloured lampshade on your own or get it painted by local artisans at the fair, like I did. Similarly "beter jhuri" (cane baskets) transformed into lamp shades can make a happy picture. So can a weaver bird's nest. This Pujo, infuse a dose of "Bengal" into the décor. The end result can be brilliant!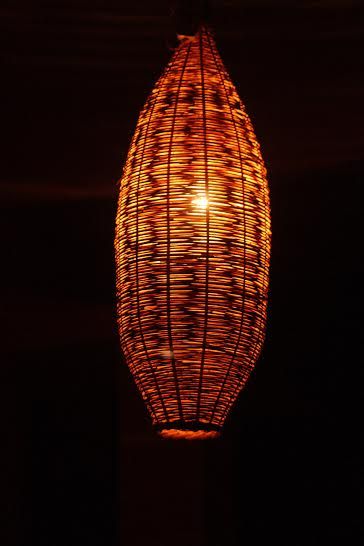 Ma got some new cushions. Some of them beautifully reflect the festivity in the air. Every time I set my eyes upon them, it smells like Pujo all over the house.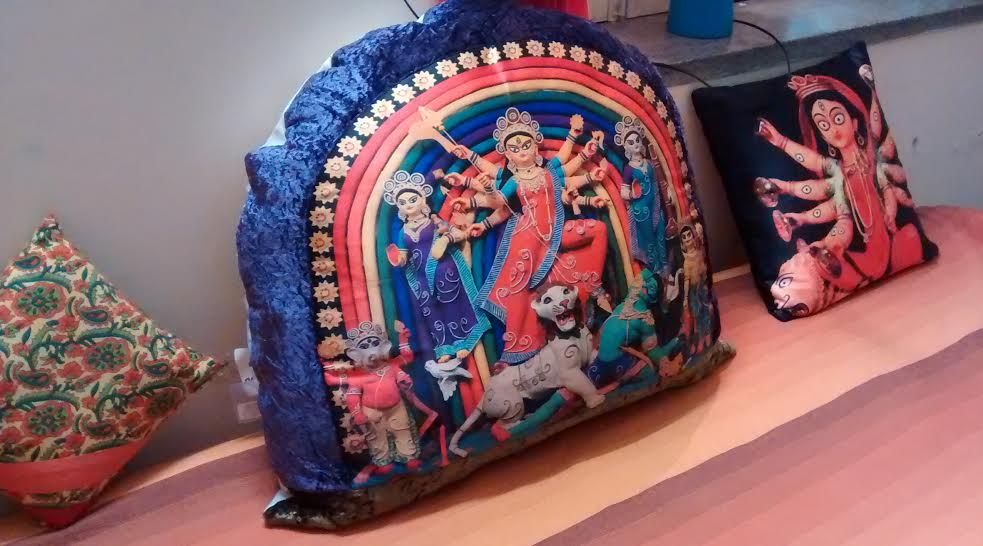 Yes, Pujo has a smell. The smell of Shiuli, the smell of new sarees (in Bengali we use the term 'pathh-bhanga-saree'), the smell of shampooed hair, the smell of Pujabarshikis (special Puja editions of various magazines), the smell of Dhoop-dhhuno.....I am eternally fascinated with the smell of Dhuno. Fuming coconut shells are arranged in a terracotta pot (with a funnel base and an open top) and powdered incense was sprinkled on top. When mosquito repellants were not so much in vogue, this was also used to ward off the little beasts. This is an integral part of Durga Puja, like I said. And you know what I did? I purchased tiny Dhunuchi claypots. They have handles exactly like that of a tea cup. I shall paint on their surface and make them into tea mugs. Yes, we Bengalis drink tea like there's no tomorrow. I was looking for mugs for drinking tea keeping in view the long hours of adda it has to survive. I got them finally.
Coming back to cushions, one can also add Bollywood masala to the living room like we did. Pujo is indeed about bringing the diva home. While the greatest Diva can adorn the pandals for five days, the ones from the silver screen can sit on your couch and enjoy the festivity all around. The Batik cushions add up to the Bong element in the décor.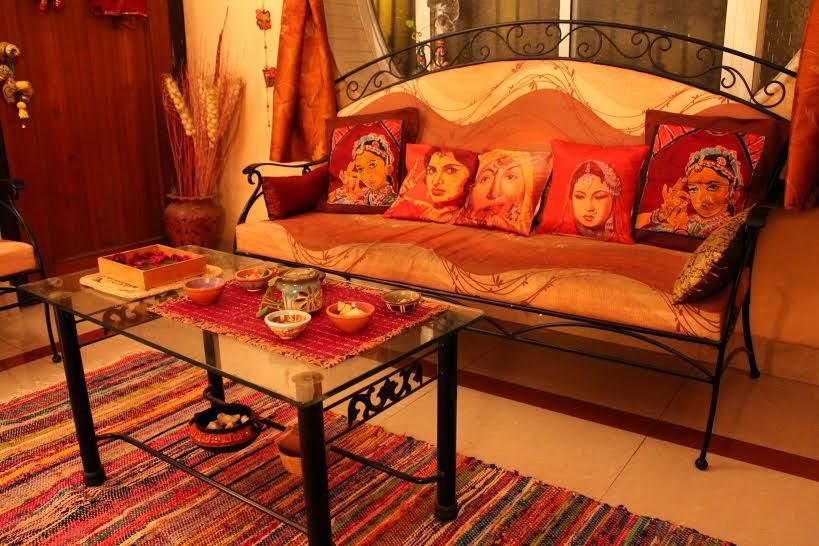 I have added a few table mats to my collection this Pujo. These mats stole my heart. Left over Kantha fabric used as borders....aren't they lovely? Because it is Pujo, I try to imbibe in each and every corner fabrics, flavours and fervor of Bengal. A lot of Kantha, Batik and handwoven Tant fabric make their places in the décor. An old Kantha stole is made into a runner for the centre table in the living room.
Similarly old sarees are made into curtains. Gamchha fabric curtains have come out of the cupboard once again.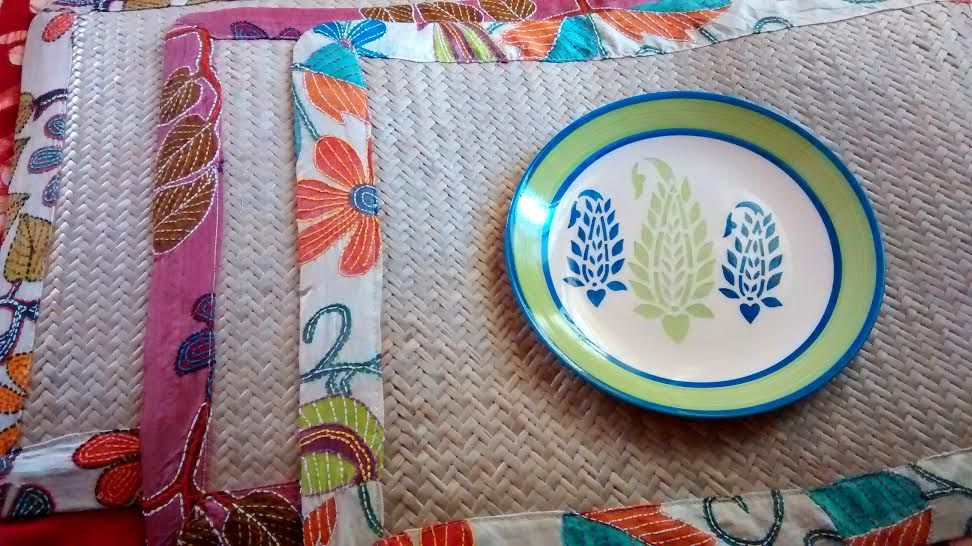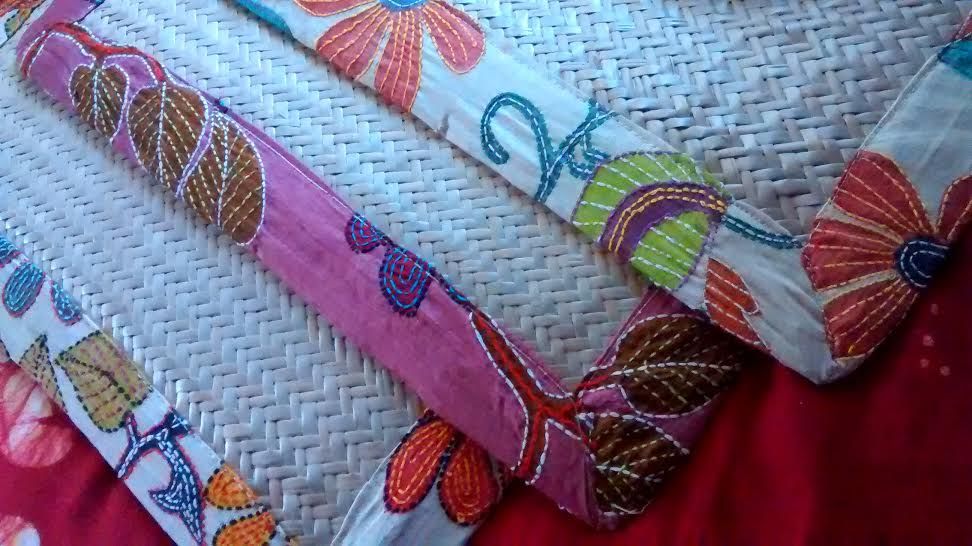 For table top, I can offer you this idea. I have displayed "Shondesher Chhanch" (moulds for making sweets in Bengal) bought from a local fair. Courtesy our extremely busy lives, the ritual of making sweets for Bijoya Dashami has almost disappeared in oblivion. In yester years, grand moms would make sweets (Naru, Chandra puli, shondesh) and nimki for guests who would visit after Bijoya Dashami. Ready made sweetmeats have replaced the homegrown delicacies. I am sure some of us still find the time to use these moulds for making sweets at home. Sadly, I am not one of them. The remnants of the years gone by have found a place in my living room in the form of table top decorations.
The sofa at my mom's is upholstered in silk Kantha patchwork. Readymade ones often dig a hole in your pockets. So I have come up with my own homemade idea. I have a Kantha queen size quilt. I use it as a bed spread. I shall recycle it as my sofa upholstery. The local carpenter has agreed and very soon I shall have a Kantha sofa to myself!
These are my home grown ideas which I wanted to share with you all. I believe like most other things, festivity also begins at home. And home needs new clothes too. My next post shall be on "Pujor Shaaj"....a few quirky ideas to brighten up your wardrobe for the festival that is beckoning. Bookmark this space. The kitten is out; the cat will jump out of the bag.....any time soon!
--------------------------------------------------------------------------------------------------
"Love Imprinted" this column will include some random happy things jotted down by Parama. Ranging from DIY ideas, home decor ideas, fashion and food. In short, this column will make you smile for sure.
About Parama : "I am a lawyer by profession and work with one of the oldest and renowned law firms in India. In the midst of mergers, acquisitions, joint ventures, real estate and other things, life may seem a little black and white with a tinge of grey here and there. But I make up for it by adding colours of my own. I am a trained painter. I write and feel happy about it. Of the things I love writing about, Kolkata enjoys an unfaltering bias. I love making things out of recycling. A staunch DIY-er. Old lampshades often become flower vases and old whiskey bottles lampshades, coconut shells and hajmi-bottles becomes candles, sarees become curtains and stirrers jura pins.I feel, like music, food and love keep us alive. A vehement foodie and a die-hard romantic, I am. .I design jewelry as a part of my hobby. Turning day to day objects into a piece of jewelry is something that gives me endless joy.I sing. I am not a singer whom you call excellent or flawless. But I feel, if Nirvana can be achieved, it would be through Rabindrasangeet. I love to travel. Almost everywhere. The Kumayun fascinates me as much as Kumartuli. It's not about the place, but about the joy of exploring. Someday I wish to write a travel – book. And I will."