Posted in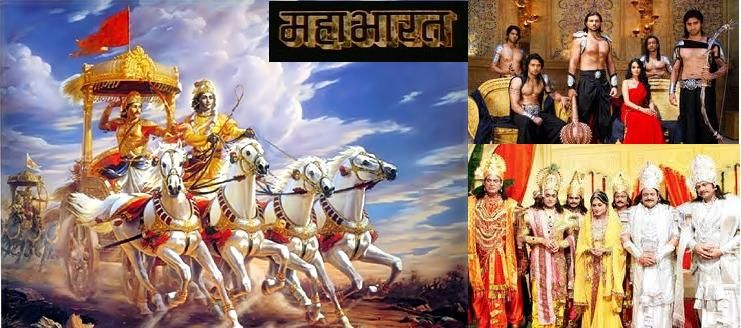 Mahabharat!! Mahabharat!! Even after all these years, the chant still resonates in my ears. No matter that it was from another lifetime; a lifetime ago when I was in my teens. In another lifetime I remember all those Sundays of watching Mahabharat with the whole family, it was almost a holy and spiritual ritual!
I have so many wonderful memories of following B.R Chopra's opus magnum "Mahabharat". From the very first episode I was and still am, enthralled by the narration, the characters, the mystical depiction and the amazing execution. No stone was unturned to make that epic a milestone on Indian TV, and they achieved that immortality.
Having said that and reading some not so positive reviews of the new version (and lack of interesting shows to watch), I paid a visit to the renewed Mahabharat on Star Plus. After the initial bout of comparison (mind you-severe dose!), I actually began to enjoy the show! And trust me, old timers will draw comparisons to every minute of the show!
As I watched one episode after the other, it dawned on me that it looked so modern but in a nice way. The special affects, the clothes, the dialogues and the artists themselves, seem to be in line with the modern day technology. Lot of people may not like the costumes or the jewelry, but all I saw was the essence of the past. Many may not like the props, the settings or the fake backdrops, but all I felt was proudness to be part of the rich culture of our history.
We know for a fact that we can't make everyone happy. Any topic you pick, people will dissect it to the bones and more, in the process losing the very soul of the act. It is not important how much was spent to produce a show, it is important to know if the message is coming across to the youngsters. It is not important that some of the history is depicted in different versions, but is more important that the show has grabbed the attention of the younger generation.
I loved the show just for its simple re-visitation of our history. I loved it just for the fact that it had caught the attention of my children, which is a lot more than I had expected. It fascinated them to the point of asking questions, relating to life, taking me back to my childhood, a déjà vu, throwing me back to a similar picture with my mother and family. It took me back to where it had all started - power, greed, lust, passion, hate and evil.
Watch it just for what it is. Watch it with your friends to re-live the memories of yester years. Watch it with the word 'comparison' deleted out of your current dictionary. And most important, bond with your children over Mahabharat – can't get any perfect than this!
The new Mahabharat runs – Monday to Friday at 8:30 pm on Star Plus
Starring – Shaheer Sheikh as Arjun, Pooja Sharma as Draupadi, Saurabh Raj Jain as Lord Krishna, Sameer Dharmadhikari as Shantanu, Vivana Singh as Ganga, Sayantani Ghosh as Satyavati, Arav Chowdhary as Bheeshma, Puneet Issar as Parshurama, Rio Kapadia as King Subala, Ratan Rajput as Amba, Mansi Sharma as Ambika, Shafaq Naaz as Kunti, Praneet Bhatt as Shakuni, Rohit Bharadwaj as Dharamraj Yudhisthir, Arpit Ranka as Duryodhan, Aham Sharma as Karna, Vibha Anand as Subhadra, Vin Rana as Nakuul
Producer – Swastik Pictures
----------------------------------------------------------------------------------------------
About the Author : Mother of two lovely girls and with a full time job, Alima Kanumilli loves to dabble in poetry and writing. As a radio show host of her own show "Rangmunch With Alima" on KLOK1170am, she loves chatting with people on air from TV shows to social issues to entertaiment. She is also an avid blogger and a voracious reader of all kinds of genre....You can follow her at http://alimalivzletlivz.wordpress.com, https://www.facebook.com/RangmunchWithAlima
Image Source : www.idubba.com