Posted in
Fall Winter Collections is a journey, from one winter to another. In an exclusive interview with B'khush Columnist Ananya Mukherjee, author Koral Dasgupta shares how the book is about transformations, which is not forced but happens organically as you mature and judge life from a broader perspective, or happens when you stop judging life and accept the elements as they are, finding beauty in their humble being.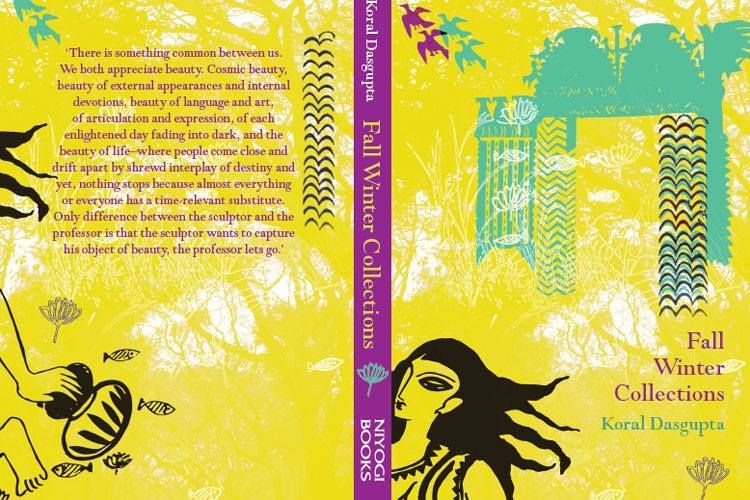 https://www.youtube.com/watch?v=UHMjfb18whU
You can order "Fall Winter Collections" at : http://www.amazon.com/Fall-Winter-Collections-Koral-Dasgupta/dp/9383098848/
I have known Koral Dasgupta for a couple of years now and she comes forth as a very vivacious young woman with an abundance of sharp positive mettle and an infectious energy. I have also found her to be immensely creative and sensitive, and the humane streak in her character distinctly individualizes her persona. So when Koral published Fall Winter Collections, I was naturally curious to learn and understand more about the book.
We were remotely connected. So what should have been our ideal tete-a-tete over a mug of steaming coffee against the backdrop of a rain-swept Mumbai, had ended up being a heart-to- heart in a virtual world. I could not, however, resist asking her the most clichéd question to begin with. Why this book?
She took me a bit through history; in this instance, her own. "I am very much in touch with lots of artists from various disciplines of visual and performing arts. This was a conscious choice I made during my growing up years. My mother introduced me to books, poetry, music, painting at a very young age. But my system refused to stop just with the status of audience. I wanted more. I wanted to understand the artists and take a peek into their lives to find out the origin of their creativity. Right from school days I would go and watch plays alone."
While reflecting on her childhood, Koral also shared how after the shows she would go ahead to talk to the performers asking them all sorts of questions and how soon they started inviting her for their opening shows.
"I escaped the strict vigil of my conservative parents to watch plays that sometimes ended quite late and I knew it would be tough to explain things back home. After 12th, I joined Viswa Bharati and enjoyed more freedom than what I did in Kolkata. With this kind of desperation it was only evident that a part of my being would stay connected with art, whatever be my profession otherwise. I wanted to be an artist myself; when I couldn't I thought at least I will visualise and fantasise being one. Hence this book," she elucidated.
Koral had written the manuscript long back when she was studying Economics at Viswa Bharati, she told me. "Most of the times I skipped my classes to hang around at Kala Bhavan. Otherwise I was seen with Literature students. My contemporaries in Santiniketan still remember me as "udanchandi" (the vagabond girl), who aroused irritation by her sheer presence because she didn't belong to the places she frequented. I never explained to anyone my love for art."
So, what's Fall Winter Collection about? "The book is a journey, from one winter to another. It is about transformations, which is not forced but happens organically as you mature and judge life from a broader perspective. Or maybe it happens when you stop judging life and accept the elements as they are, finding beauty in their humble being. Fall Winter Collections is about a Rajasthani sculptor at Tagore's land, as he secretly works on an ambitious project​ carving a series of ​​Krishna's six women. ​​He meets a professor there; a lady who apparently is a contrast to his being and ruins all notions he had conservatively held on to for years. That's when his personal weaknesses and professional strengths merge into one. The sculptor's life changes in the process of sculpting the last statue of his series."
​Typical of my trade, I was curious to know how much of the characters was real. "While watching endlessly the works of students and professors at Kala Bhavan, I had started hallucinating! Those moments came to me like a motion picture and I wrote them down in a diary with all my efforts, trying best to convince myself with language, that they were true. It became a book! In fact, most of the moments of the story are true; only the main characters are fictional. A rickshaw-puller playing a flute till late in the night is true; I heard he has become a "baul" now. Kalidashi di and Sukumar da lovingly preparing food for students, most of whom are away from home and stay in hostels, is true. We as students would spend many evenings sitting and chatting in their stalls. The houses of my protagonists are also real; I know their owners. But there wasn't a foreign-returned sculptor from a diamond merchant's family who could fall in love with a professor."
Fascinated at how her mind worked and joined the dots in an imaginative world drawing inspiration from reality, I asked her how rewarding it was to be an author. The biggest reward of being an author was that you could create moments that you wanted to live, she responded convincingly! "Your books are usually extensions of your mind. Think how beautiful it is that a fraction of your mind has a tangible presence, and it is reaching out even to those whom you have never known!"Were there no challenges? I probed.
"Challenges start when you reach out to publishers because then a saleability factor assumes importance. Promoting the book to relevant audience is also a challenge. And some challenges are pretty entertaining. Ladies at times approach me requesting help with their kid's homework because I am creative and good with language. Friends ask me if it is actually my author husband who is ghost-writing my books, to which I always answer "yes" and tell them that he did that because he had to save taxes and "write" property under the wife's name. My mother feels that I was easy for me to become an author because I am a blatant liar. Tackling these are also great challenges."
So, what's next? She was as spontaneous as ever. "I had only four ideas with me when I started writing. Two ideas have already hit the stands. My first book, Power of a Common Man, is an academic biography of actor Shah Rukh Khan. The two more stories that I plan to write will again explore two different disciplines of art and analyse relationships through them. Post these I'll explore some other interest. Not sure what!"
Fall Winter Collections is probably her escapade from the mundane, exploring things that she loves and creating an ambiance to which she believes she belongs. "It is also about relationships with women in various capacities, the beauty and complications of which I quietly observed, experienced, discussed and debated in my mind. It is interesting to decode the inspiration behind art. Women have been artists' eternal muse, consciously or subconsciously. But how a creative brain works and the depths of artsy vision is often enigmatic and mysterious."
-------------------------------------------------------------------------------------------------------------------------------------
About Koral Dasgupta : Koral Dasgupta is the author of Fall Winter Collections and Power of a Common Man. She is an academic, teaching Marketing Management in B-schools. Her columns spread across websites and magazines explore art, education, mythology, travel, parenting, books, films and others. Tweet her @koraldasgupta
About the Author : Ananya Mukherjee, former editor of HRM Asia, is an acclaimed writer and journalist with more than 1000 publications to her credit. Her journalistic acumen in print and television covers a whole gamut of subjects including politics, lifestyle and business. She is a passionate short story writer, columnist, avid reader, keen traveller, blogger, theatre artiste and a trained dancer. Ananya currently lives in Singapore and spearheads Internal Communications in a Multi-national Company.
This column is copyrighted by the author. Any reproduction, reprint or publication in whole or parts thereof in any other form without permission is a violation of the intellectual property right and could lead to potential legal actions by the author.