Posted in
According to the sources, US government spent a whopping amount of $ 200 million per day on President Obama's visit to Mumbai. In his article you will get a glimpse of Mr. and Mrs. Obama's expensive visit through these priceless pictures and quotes.
President Obama and Michelle Obama Boards Airforce One Enroute to India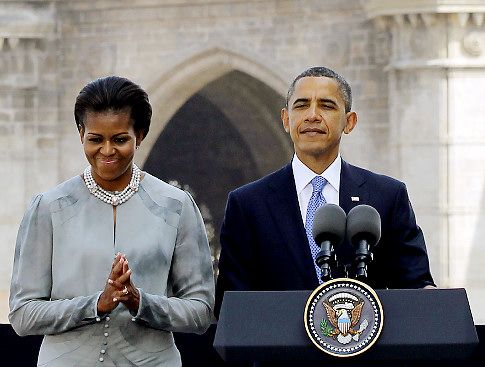 President Obama and Michelle Obama at the Gateway of India.
Mr. & Mrs. Obama Attends the Memorial at Taj Mahal hotel to
pay Tribute to the Victims of Mumbai Terror Attcks
President Obama and Michelle Obama greeted by Indian Dignitaries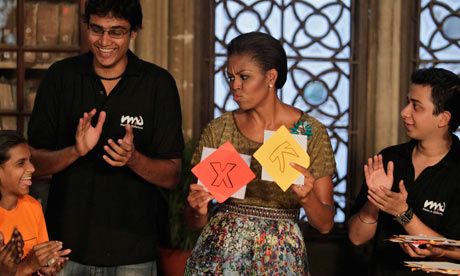 Michelle Obama at the University of Mumbai, to meet the children from
the Indian charity, Make a Difference.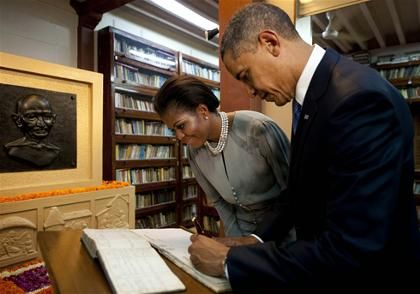 President Obama and Michelle Obama Signing the Guest book
at the Gandhi Museum in Mumbai.
The First Lady of USA played hop scotch and danced to the tunes of Bollywood
Songs.
Quote...Unquote:
"I am filled with hope and inspiration as I have the privilege to visit this testament to Gandhi" : President Obama at Gandhi Museum
"this visit will be one that I will always remember." : The First Lady Michelle Obama at the Gandhi Museum
"Pakistan is a strategically important country, not just for America, but for the world." : President Obama at makeshift "town hall" meeting with a group of 300 students drawn from various local colleges held at St Xavier's College
"India is not just a rising power, it has already risen. Its economy has risen at a breathtaking rate. We look forward to a greater role for India at the world stage," : President Obama
'I love dancing. Oh that was fun!' : Mrs. Obama said after they danced to the theme song from the Bollywood movie 'Rang de Basanti.'
"I didn't grow up with a lot of money," Mrs. Obama "I never even imagined being the first lady of the United States. But because I had an education, when the time came to do this, I was ready." : Mrs Obama while talking to the orphan children at the University of Mumbai.
The Merchandise: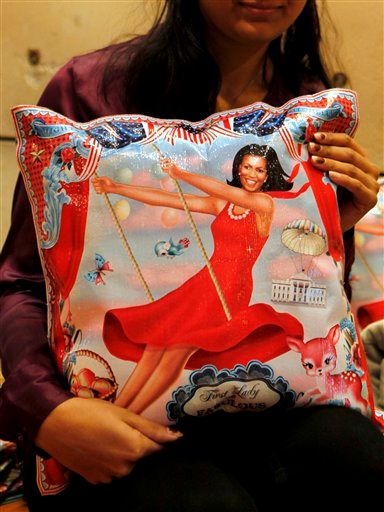 "Michelle Obama pillows" are the latest offering from a boutique at the shopping complex, which is hoping to lure the first lady during her visit to the Indian capital.
"I saw an opportunity here. These are conversation pillows meant to start conversations," Arpita Kalra, the New Delhi-based designer behind the square-shaped pillows, told The Indian Express newspaper.
The pillows have been reconstructed from the popular Mighty Michelle Shopper bag, which is on sale at the online shop Blue Q. The pillow shows Michelle Obama in a sleeveless red dress and pearls sitting on a swing and surrounded by smaller images of the White House.
A Video With a Little Details About the Marine One :
Photo Courtesy : Associated Press, Getty images