Posted in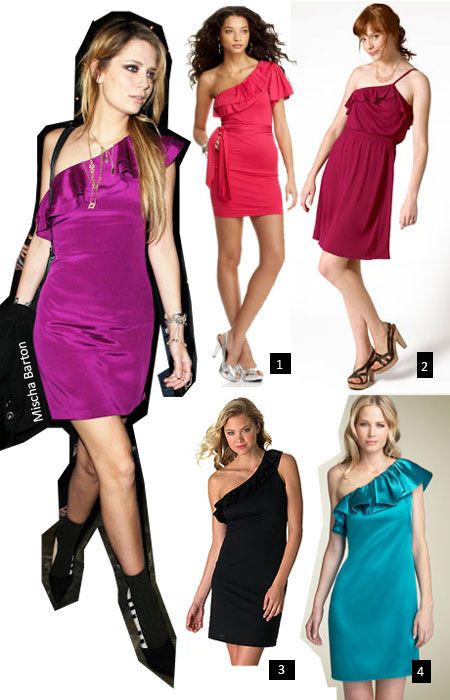 One Shoulder dresses continues to be the hottest trend of the fall ,confirms the fashion gurus of the world.Be it a mini cocktail dress , a casual maxi dress or floor length dinner gown. The one shoulder dresses no doubt brings out the oomph factor if carried out well. The divas of Bollywood have welcomed this haute trend and are putting their "best shoulder forward".

This is what the style gurus of India has to say abt this haute and chick trend.
Designer Narendra Kumar Ahmed : "One-shoulder dresses are definitely in, more so the asymmetrical types. What makes them so trendy is the fact that they are very adaptable and can be worn as dresses or tops teamed with denims or even as gowns."
Designer Surily Goel : "They are conservatively sexy and a perfect way to make a bold fashion statement without looking tacky or over-the-top."Revealing that she will be unveiling an entire line of one-shoulder dresses in her fall-winter collection, Surily adds, "Such cuts really accentuate the shoulders and collar bones and if you've got well-toned arms and nice shoulders and neck, then it's a sure shot head-turner. Depending on what you team it with you can easily look like a glam diva or a sex goddess."
Designer Neeta Lulla : who's wardrobe boasts of several one-shoulder dresses too, swears by the garment's versatility. "It's flirty, sexy yet very elegant, sophisticated and chic. The asymmetrical cut flatters all body types," she says.And if you thought that the trend goes well only with Western wear, think again. "The trend looks great with saris as well," says Neeta, adding, "In fact, in the seventies, Mumtaz had made quite a fashion statement with the same."
Designer Tarana Masand : " one shouldered blouses too have been much in demand off late as have been one shouldered churidaars and kurtas. "Saris with one-shouldered blouses in solid colours like emerald greens, pastel yellows and reds are a rage," she says.
But while the trend is hotting up with the fashionistas in the city, stylist Varsha Bhawnani has a word of caution.
"While such dresses do add to the oomph factor, it would be a disaster if the arms and shoulders are not well-toned. Such dresses highlight slender necks and collarbones, so I wouldn't recommend them to weighty women."
Also do not overdo the accessories, caution designers. "Keep them minimum, the best is to wear chunky earrings or studs and avoid anything on the neck. And a clutchbag should be preferred as against shoulder purses," adds Varsha.
Source : Times of India http://timesofindia.indiatimes.com/life-style/fashion/style-guide/One-sh...