Submitted by
jkhera
on Mon, 03/17/2014 - 19:59
Posted in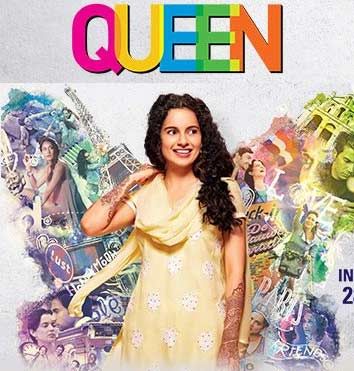 There are scenes in "Queen" that only a Delhi-ite or an Indian girl can relate to. A girl on all fours on the ground writhing and crying as she calls her mummy to help her from the goon who is trying hard to get her purse from her. She wails loudly but doesn't for a moment let go her grip on the bag, clutching it tightly between her legs! This happens in Paris where later after a few drinks she climbs on a bar table and tries to dance. Trying to mimic the sexy moves of other girls she takes off her sweater and whirls it around only to stuff it in her big bag to be stowed away safely!
This could be any middle-class girl from Delhi or for that matter from any city in India – toughened by the daily harsh reality of facing harassment and lecherous male eyes aka eve-teasing, and bag and chain snatchers, as she navigates her life as a school, college or a working girl in metros, buses or trains. Leave such a girl in any city of the world and she will survive, even if bewildered by the cultural contrast in the beginning. Our heroine Rani (literal translation of Queen in Hindi) is one such girl, living in Rajouri – referring to a Delhi area inhabited by nouveau rich Punjabi business owners. Two days before her wedding she is unceremoniously dumped by her fiancé who had earlier wooed her several years ago, with, among other things, a scooter full of red heart shaped balloons! Heartbroken and dejected, she and her family try to cope with it but not long enough before a deadpan Rani announces to her parents she wants to go for her honeymoon, solo! Loving parents hesitatingly agree and off she is on a plane to Paris! Initially haunted by the looming Eiffel tower everywhere she goes – the famous landmark her dubious fiancé had promised to take her to, she finds comfort in the company of a half-Indian girl - a housekeeping staff at the hotel she is staying at. A polar opposite to Rani's demure Indian girl, Vijaylakshmi (cleverly named to match Rani's boyfriend's name Vijay) smokes, drinks, has sex with strangers in vacant hotel rooms, and has a son from her boyfriend! Despite the stark differences, the duo bond, and soon Rani begins to forget her woes. From Paris she goes to Amsterdam (part of the original honeymoon plan) this time duly equipped with a sturdy travel back-pack and booked by Vijaylakshmi to stay in a hostel, where to her dismay she is supposed to share a room with 3 boys!
Queen is the story of Rani's journey to find herself as she experiences freedom for the first time in a foreign land away from the watchful eyes of her parents, her chauvinist boyfriend and the society. Here she finds redemption as she goes through her first hangover, discovers unusual friendships, drives, makes and feeds spicy hot gol-gappas to unsuspecting Europeans, and experiences her first kiss! She even gets her fiancé back, who lured by a sexy photo she sends to him, now wants her back as he notices how modern she has become! Will she go back to her original planned future and life of a Punjabi house wife, or continue to relish this newfound freedom is anyone's guess.
Director Vikas Behl to his credit has kept Queen light and fast-moving, poignant but not weighed down by an ounce of melodrama, and exceptionally funny! So even though Rani's break up from her fiancé and boyfriend of several years, with all preparations made and while the family is in the middle of the big fat Punjabi wedding is shocking for everyone, the director doesn't dwell on it or make a big deal of it and shows the characters' natural reaction. Behl, a Punjabi himself, deftly creates the middle class urban setting replete with mannerisms and slangs but organically and not overbearing like some recent movies in showing-off the Delhi culture, e.g. and full marks for not overusing the word 'Syapa' (punjabi slang for 'what a mess')
Kangna is convincing, morphing beautifully from a homegrown, fizzy-haired good girl sans makeup, to a savvy, mature woman radiating and reveling in her inner confidence! At times you feel her performance is too one-dimensional as she delivers every dialogue with same deadpan ingénue but she charms her way through nonetheless. Rajkumar again gives a pitch-perfect performance as the jerk of a boyfriend and shines even in the small role. The supporting characters are all nuanced but not caricatures, superbly brought to life, be it the family in India including the chubby little brother Chintu, used as all little brothers are – sister's bodyguard - by overprotective parents, or the cussing, partying, leggy lass Vijaylakshmi, to Rani's three international roommates in Amsterdam. Even the Urdu speaking pole dancer is refreshingly unpretentious!
Amit Trivedi's music does live up to its reputation but the umpteen background songs used to depict the protagonist's emotions, are superfluous and appear jarring at times. You just want to be left alone and enjoy the easy flowing, brilliant narrative by itself.
The basic premise seems to be picked up from the movie version of Sex and the city where a flustered Carrie left alone at the altar by the jittery groom Big, goes on her honeymoon with her girlfriends. But that is where the similarity ends, and thankfully so! In fact the feel good uplifting scenarios remind you of English Vinglish - another recent Hindi film where the protagonist discovers her confidence (shattered by a chauvinistic condescending husband and an arrogant daughter) in a foreign land.
But it is outdone by the humor and wit resplendent in Queen. When the handsome restaurateur hits on her about Italians' kissing prowess, Rani mischeviously murmurs - 'you don't know about Emran Hashmi', referring to the actor notorious for his on-screen kissing record!
Watch Queen for these funny, self-deprecating Indian moments – you will laugh in every scene, come out grinning ear to ear, and will have the smile lingering on long after the movie.. until real life hits you!
A Sneak Peek into Queen :
---------------------------------------------------------------------------------------------
About the Author : Jyoti is a freelance writer based in San Jose. A software professional in her previous life, she is a thinker, dreamer, a left-brainer trying to evolve as the right one! She writes about films, food, and social issues. She is very concerned and vocal about issues pertaining to Indian politics, governance, and media.