Submitted by
Foodie
on Sat, 04/17/2010 - 17:36
Posted in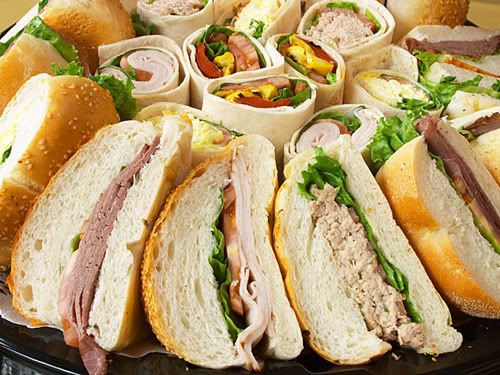 By: Laura Cockherell
Quick meals are important with the hectic schedules we deal with everyday and sandwich wraps are a great way to make a quick and healthy meal anytime. With just a few ingredients you can create a meal in minutes when you are short on time or just want something simple and flavorful. They are the perfect grab-n-go quick meal.
Here is a simple procedure to put a healthy and delicious wrap together in just a little bit of time. It's quick, easy, and flexible and allows for your own tastes, the seasons, or for what you may have on hand at the time you make your sandwich wrap. Just take the ingredients you are using and layer them down the center of the wrap, leaving an inch or so at the bottom to close the wrap when you are finished.
1. First choose the kind of wrap that you want. Soft tortilla shells come in a wide variety of flavors today such as spinach, tomato, whole grain and more. You may also want to try some kale leaves (raw or lightly steamed) with the stem cut out so you are only using the leafy part or try some large lettuce leaves or even some steamed cabbage leaves.
2. Select a spread for the wrap base. This is what will go underneath all of your ingredients. Spread a layer, as thin or as thick as you like, on the wrap that you have selected. Here are a few ideas for ingredients to spread on your wrap: mayonnaise, cooked sweet potatoes, sour cream, olive tapenade, or plain or flavored cream cheese.
3. Fill the wrap. Choose a single item or a combination of items and place as much as you like down the center of the sandwich wrap. Try tofu (bake and seasoned), cheese (sliced or shredded), leftover cooked chicken or steak, avocado, canned salmon or smoked salmon slices, etc.
4. Fill up your sandwich wrap with a variety of vegetables or fruit. Here is a great way to get more of these healthy foods into your diet.

Vegetable Suggestions: shredded lettuce, peeled and thinly sliced jicama, thinly sliced cucumbers, marinated artichoke hearts, shredded cabbage, shredded carrots, fresh tomato slices or diced tomatoes, sliced mushrooms, sliced scallions, sliced roasted red peppers, sliced sweet bell peppers, very thinly sliced fennel, chopped or diced onion, etc.
Fruit Suggestions: dried cranberries, orange slices, diced or sliced apples or pears, peach slices, sliced strawberries or mango, raisins or dried fruit of choice, fresh blueberries or blackberries, sliced mango, diced cantaloupe or honeydew melon, etc.
5. Boost the flavor of your wrap. Add a little extra zip to your meal with some simple items that will accent your wrap sandwich. Depending on the fillings you have chosen, here are a few suggestions to get you started.

Crunchy/Salty/Spicy Flavor Toppings: salsa, pickle relish, peanut sauce, oyster sauce, a sprinkling of soy sauce, cooked and crumbled bacon bits (regular or vegetarian), chopped nuts, a little chopped fresh herbs of choice like basil, dill, oregano, mint, or cilantro
Sweet/Spicy/Crunchy Flavor Toppings: nutmeg or cinnamon, some chutney, chopped nuts, a flavored granola, maple syrup, honey, mini-chocolate chips, a spoonful of marmalade or all-fruit spread, etc
.
After all the ingredients have been added to the wrap, simply fold up the bottom flap and then carefully fold in the sides to close the sandwich and enjoy.
Here are a few easy ideas for some quick and delicious wrap sandwiches.
- whole grain tortilla wrap, mayonnaise, cooked boneless chicken breast (thinly sliced), shredded lettuce, mango chutney
- whole grain tortilla wrap, almond butter, avocado slices, crushed and drained pineapple, brown sugar
- kale leaves, whipped cream cheese, refried beans, jalapeno slices, salsa, chopped pitted black olives
- whole grain tortilla wrap, peanut butter, sliced pears, blueberries, honey, nutmeg
- spinach flavored tortilla wrap, basil pesto, cooked vegetarian sausage links sliced lengthwise, shredded cheddar cheese, diced tomatoes

- whole grain tortilla wrap, tomato pesto, sliced hard-cooked egg, fresh spinach leaves, pitted and chopped black olives, spoonful of sour cream
- whole grain tortilla wrap, apple butter, shredded sharp cheddar cheese, shredded apples, raisins, nutmeg
- tomato flavored tortilla wrap, tomato pesto, cooked and mashed black beans, sliced cucumber, sliced roasted red peppers, shredded cabbage, crumbled goat cheese, sprinkle of dried basil, a drizzle of Italian dressing.



About the Author:


For quick and simple meals, like these sandwich wraps, visit Quick Salad Recipes.com for a wide variety of uncomplicated recipes using short ingredient lists, flavorful and nutritious food, and quick preparation. From breakfast through dessert, these quick meal recipes will take the work out of everyday menu planning.
Article Source: http://www.PopularArticles.com/article185123.html