Posted in
"Shudhh Shakahari Desi" is all about you and me: my exposure and experiences with your culture, your food, your language, your music blended in a humor curry of my own hopeless attempts to become you and my struggle to evolve as the sole epitome of National Integration, as I grew up and cultivated my own self embracing all of my nation in over 15 states in India. Am hoping you will find some of yourself with a bit of me strewn in here...
Episode - 15
Ma
Very few of us remain untouched by the image of the three year old Syrian refugee boy whose body was washed ashore on a Turkish beach, swept away by an angry sea and an unforgiving mankind. The photograph is making rounds on the internet and social media across the world and like everyone else, the sight has left me both appalled and distraught. No, I am not here to make a solemn speech on the deteriorating standards of political morality or question the mindless killing and massacre of innocent human beings. This is perhaps a trade off in what seems to be a never ending tale of warfare that must continue in some part of the world to fuel the economy of some others. Then what is the motive underlying this sad and melancholic introduction? Drowned Aylan Kurdi reminds me of someone I have been searching for and have not found as yet.
I am told his name is Isah. He is six years old, a Syrian refugee and lives on the busy streets of Istanbul, Turkey. I did not know his story till the day somebody I know forwarded me a link from a news site. The story on him was an average "soft" human interest beat that highlighted how he, who was all of six, had fled the horror of war in Aleppo, Syria and now made his living by playing a flute on the sidewalks of Istanbul's bustling shopping arcades. The money he made-- $10 or less a day--helped him feed his mother and four siblings, the report said. His father had died in Aleppo, which had seen some of the fiercest fighting in Syria in recent times.
It could have been just one of those stories I "Oh-dear-me!" at and conveniently forget, had it not been for my trip to Istanbul last year. I don't know if it was destined to be that way. Isah, and I don't know his full name, became an important reason for my ticket to Istanbul.
If you have ever set your foot on the breathtaking landscape of the Turkish cultural capital, you would know what I mean when I say Istanbul was always on the top of my bucket list. Known for its transcontinental location in Eurasia, Istanbul, straddling the Bosphorus strait between the Sea of Marmara and the Black sea is the seat of Turkey's economic, cultural and historical identity.
Needless to say, I was enamored by the idea of visiting the land veiled under a secular mystery, stepping on to world's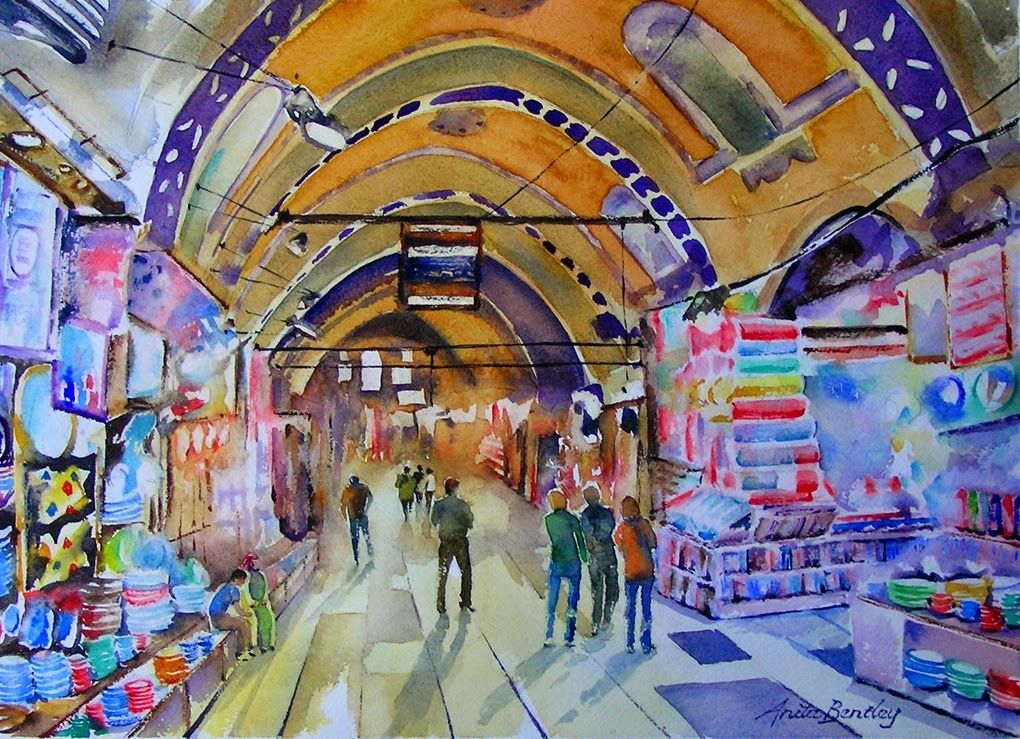 oldest palaces, bazaars, mosques, churches and synagogues and letting myself loose in a time machine. And I would have happily ticked off all the boxes cherishing these monuments, the intricate mosaics and frescos, the wonders in marble and gilded ceiling and minarets, the hot juicy kebabs on the pavements and Turkish mint tea served in little glass jars with baklavas and kunefes served with a dash of saffron or cinnamon, the scintillating belly dancers, the gold souks, the medieval markets selling rugs, caviar, dry fruits and aphrodisiacs all in the same cobbled alley, the jingles of coloured glass lamps and silver anklets, drowning myself in an eternal ethereal "itr" of bliss, had Isah not stayed on my mind. Istanbul is mesmerizing and can easily entice a visitor into a utopia of superfluous luxury of freedom and invidious selfishness, like a well- trained seductress. I, too, fell into its charms.
I think it was on day three when I actually could release myself from the temptations that bound me to begin my search for Isah. The hotel offered some help and direction but was unable to identify the boy or guide me any further. All I knew of him was only the background of a busy marketplace and a flute on his little chapped lips.
I spent a few hours in the busiest shopping hubs of Istanbul, stopping by street musicians playing the harp, beggars dressed in rags amidst colourful magical women draped in fine silks, children with freckles running in woolen stockings and men clothed in dark suits walking past the less fortunate without a smile on their lips. I peeped into old churches and wells by the pebbled pathways and stood at green mosque doors amidst piles of shoes and slippers, hoping to catch a glimpse of Isah. I asked every street musician I met on the road, a blind couple, a group of punks, an old man sitting with his dog. No one knew or knew of a little Syrian refugee boy. Yes, he was that insignificant in this swarm of humanity. I went back looking for him the next day again but luck was not on my side.
Don't ask me what I would have done had I met him. Would I have adopted him, sponsored his education, health, life, family? I don't have an answer. I just knew I had to find him and look him in the eye, apologise for my helplessness to stand by or provide him and many others like him, a world that guaranteed a square meal a day, a warm home and parents for a child. The thought of living in luxury in the same world where hundreds of thousands of children get slaughtered by life or death put a burden on my weak shoulders. It was just so not right and I, though a tiny iota of an existence had a role to play in it.
Do I fear that I am too small to create a universe of difference? Trust me, no matter how arrogant and confident I am, I do. I fear for my limitations, I fear I overestimate my boundary-less ness. I fear the faces I cannot see or read; I fear the ones I have forgotten. I fear the conscience that always seems to find a voice in the most inappropriate, most politically incorrect environment; but I fear the conscience more that has fallen asleep or has not spoken for eons.
And in those times of reckless fearfulness intimidating a placid lake of conscious comfort, I take a moment to pause and look at the people around me. And in seconds, as if by some premeditated twist of destiny, I see the numbers growing, exploding with an insane vengeance, ugly shadows multiplying into double digits, the living inseparable from the dead, masks fusing on to each other by some un-coded discreet conspiracy, and then in what seems like an unpredictable dominos effect, I see them falling out of my orbit, one after the other until the last one has fallen and freed my space from its influences. With them, wash away miseries, sadness, gloom, blood, genocide, war, orphans.
I hate that last word. Someday, I will find Isah….trust me, I will.
Till then, love and much more…
Ma
---------------------------------------------------------------------------------------------------------------------------
Image Courtesy : http://anitajbentley.blogspot.com/
About the Author : Ananya Mukherjee, former editor of HRM Asia, is an acclaimed writer and journalist with more than 1000 publications to her credit. Her journalistic acumen in print and television covers a whole gamut of subjects including politics, lifestyle and business. She is a passionate short story writer, columnist, avid reader, keen traveller, blogger, theatre artiste and a trained dancer. Ananya currently lives in Singapore and spearheads Internal Communications in a Multi-national Company.