Posted in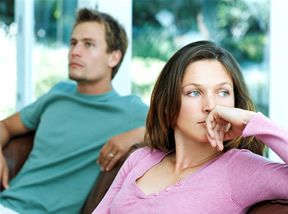 The maid is being given instructions on the lunch menu, the evening dinner plans already afoot.The maid is chided about why she has been irregular. There is a familiar scream from the kitchen as the maid arrives near the bedroom and screeches out her lungs at Indu, who is reading the Sunday papers, with coffee in bed. The maid serves her ultimatum for the fifth time this month, "Madame, please ask Sir, not too instruct me on matters of the kitchen all the time" Indu does not twitch a muscle at the all too familiar scene. Her husband's interference in all things domestic is nothing new and she has learnt to turn a blind eye to it today unlike a few years ago, when she would be extremely upset about it.
Welcome to the world of husbands/partners who simply can't seem to keep themselves away from matters domestic and try and make perfection out of it. Following age old tradition, the home and the hearth are still areas largely governed b y the lady of the house, but with changing roles and men working out of the house or sharing of chores by both men and women have led to many such scenarios where the men intervene into what the lady thinks is not 'his domain'
I've often heard stories of husbands who travel a lot, wanting to convert the home into a hotel, mostly because they are so used to a hotel room. They expect room service at home too, with delicacies from around the world being served to them on a platter. While all this is ok, if done within acceptable limits, the problems start, when some men insist on taking this to extremes. Like the book 'Men are from Mars and women from Venus' highlights, men and women are different in basic nature, as a result the way they function also varies. As long as they contain their zest for over doing things or perfection, things are ok. The problem starts when they start expecting the same from their wives/partners too.
Akanksha, and her husband are EMS (Emergency Services) expert. They work flexible hours and often her husband is at home, when she is too. A cleanliness freak, he likes instructing the maids, arranging and organizing the house since early morning and can practically go on at house work all day. Akanksha on the other hand is fun loving, likes reading and attending concerts and has no time for the nitty gritties of the house unless they are an absolute essential. Akanksha, is not dirty, neither does she like an unclean home but arranging the home and cleaning up all the time is not an obsession with her.
Sudha is a fashion photographer, married to a banker, both of them share the love of traveling but since the past 3 years have not done so, mostly because they cannot come to a common consensus regarding way of travel. Akanksha's husband is a perfectionist and wants to book hotels, flight tickets, etc at least six months in advance and start packing with every essential commodity possible at least a month back.This irritates Akanksha, who likes traveling on the spurt with only some planning a few days before.While both have there valid points, what irks Akanksha is that her husband loses out on much of the fun of doing things sporadically and his perfectionist nature, kills the romance between them.
Perfection can be good, and men and women crossing the boundaries of domain(helping out in the house work) is required too. But too much of a good thing can be bad too and most people (both men and women) dislike obsession with something and excessive policing or interfering in each other's space. Unfortunately, not everyone takes it sportingly or let their partner indulge in it out of love. Eventually, problems crop up with the expectations of a perfectionist partner wanting his/her partner to function in a similar manner. This is when trouble starts brewing. Save your romance/marriage, before the trouble starts..have fun & chuck perfection down the drain for once!