Posted in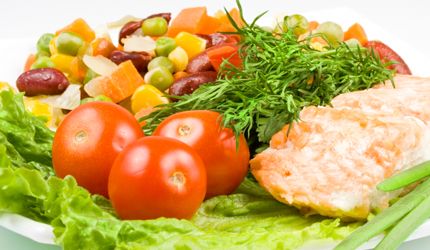 The Vedic approach to diet prefers a vegetarian intake of earth's bounty bathed in the goodness of sun to nourish the soul with divinity. Non-Vegetarian sources of nourishment have been considered lowerconsciousness foods by seers and an individual is encouraged to shift to higher consciousness foods as consciousness evolves. The logic behind this advice is simple.
Slaughtered animals release toxins created by the fear of approaching death which is then ingested into the system.These toxins are present in the carcass of the dead animal leaving an imprint on its cell memory while the animal is still alive. As such, the cells ingested from animal tissues are an imperfect source of nutrition giving rise to imperfections in the human body. As modern research has proven cancer, a disease of imperfect cells is more prevalent in carnivores, especially connoisseurs of red meat, which is derived from higher consciousness beings. From a Karmic viewpoint food sources derived by inflicting pain will bring pain to the body in various forms. From a moral standpoint inflicting violence on living beings for sustenance while substitutes are available will foster a culture of violence in the society leading to violence at all levels, from video games to bar brawls and national bombardments.

There are three categories of food according to the Vedas.
Sattvic foods which nourish the body mind and soul giving rise to a healthy and peaceful countenance. Foods in this group are mainly fresh vegetables, fruits, nuts and dairy products.
Next is the Rajas group of foods promoting restlessness, anxiety, stress and activity. This is where most Non-Vegetarian fare lie. While this group of foods like meat, and spicy and oily foods may make an individual productive it also takes its tool on the body in the form of stress and anxiety.
Lastly are the Tamas group of foods promoting lethargy, darkness and depression to be avoided entirely. These are over ripe and rotting products to stay away from, hence the preference for freshly cooked foods over preserved and canned produce.
So what is an ideal Vedic diet for chest thumping Non-Vegetarians ? That is where flexitarianism comes in, a semi-vegetarian diet until a complete shift to vegetarianism is possible. Intermediate choices could include pollotarianism and pisceterianism.
Pollotarianism is a diet that includes birds and fish.
Pisceterianism is a diet that avoids all meat except fish.

From a global warming perspective, it emits as much greenhouse gas to produce a kilo of beef as is emitted from a three hour drive in European roads, while leaving all the lights on for the duration of the drive in an average European home. As energy flows through the food chain ninety percent of it is lost at each step, thus taking greater resources to produce nutrition at the higher end of the food chain. It takes ten times more plant material to derive the same amount of energy from an animal source than by ingesting the plant source directly. It takes anywhere from 25 to 250 times the volume of water toproduce an equivalent energy yield from animal tissues than from plant sources directly.
Bryan Walsh wrote in the April 9, 2007 issue of the TIME magazine, "If you switch to vegetarianism you can shrink your carbon footprint by 1.5 tons of carbon dioxide a year, according to a research by the University of Chicago."

Taking into consideration all the fore mentioned issues what would happen if meat consumption went up globally and became the preferred source of nutrition? Does the earth have enough resources to provide the bounty to an ever growing population without incurring irreversible damage? The danger is even greater with developing economic powerhouses' intent on following a western lifestyle. What would happen to global warming if every household in India and China had two cars in the driveway, one of them being a SUV and stepped up meat consumption? A gradual shift to flexitarianism can be made by choosing to maintain a vegetarian diet once a week, gradually moving up the number of vegetarian fare to three times a week and so forth until one is able to become a vegetarian fully based on conscious realization rather than blind dogma.

This discussion is just a wide glimpse into the food choices we make to promote thinking and encourage your own research into the matter using the terms found in this post. A healthy diet is the first step in promoting a healthy mind, body, soul and planet. All in Divine, the Divine in All.
Something to think about. Even while eating